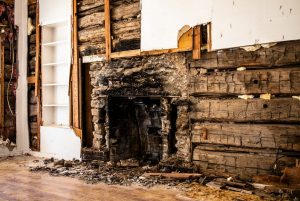 It's likely that an antique cabin located inside an old house on the west side of Flower Mound will stay right where it is.
Mayor Tom Hayden said at tonight's town council meeting that he and Town Manager Jimmy Stathatos have had many conversations over the past week with developer Curtis Grant, who owns the land the cabin is situated on.
The 4.33-acre parcel of land at situated at the southeast corner of Quail Run and Flower Mound roads could eventually be home to 12 homes, as Grant intends. But it's also "home" to a log cabin dating back to the 1860s. The cabin was discovered inside the walls of a house currently standing, facing Flower Mound Road.
"I think, what Jimmy's going to recommend," Hayden said early in the meeting, "is to restore the cabin where it is, keep it at the location it's at, and work with the county for … means of funding. "There's a substantial cost difference between moving it to another location and keeping it where it is, but I think the right thing for the town to do might be to turn it into a park at the cabin location."
Hayden said he has worked with Denton County Commissioner Andy Eads who has offered to help the town with funding to keep the cabin where it's at.
The Cross Timbers Gazette will update this story as more information is disclosed.