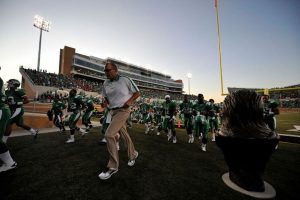 The difference between a win and a loss could be as simple as crowd atmosphere willing your team to victory. The University of North Texas in Denton has enjoyed storied success in its newly-built Apogee Stadium, which opened to fans September 10, 2011.
Winning nearly 70 percent of its games since it opened, the Mean Green football program is hoping for another year where Apogee becomes a Saturday destination for sports fans across Denton County.
"Apogee Stadium and our fans have given us a tremendous home-field advantage," said head football coach Dan McCarney. "We feel the electricity of the environment when we come out of the locker room and our team really feeds off of that energy. It is truly a special place to play and we are proud to call it home."
The groundbreaking for the new facility was on November 21, 2009 after the North Texas Student Government Association approved a dedicated athletic fee to fund the new stadium. The total cost of the stadium was around $80 million, but because the project was built during the recession, the cost today would exceed $140 million according to the contractors.
The stadium received naming rights on Aug. 11, 2011 with Austin-based campus internet access provider Apogee signing a 20 year, $20 million deal, which was the second-largest naming rights deal for a college football stadium at the time. Apogee is also one of the first newly built stadiums to achieve Leadership in Energy and Environment Design (LEED) Platinum certification, the highest level awarded by the U.S. Green Building Council.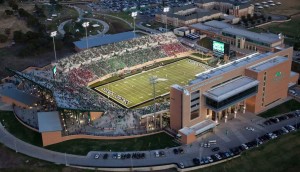 Located just 15 minutes north of Lantana, the amenities at Apogee exceed most expectations and are on par with elite college football stadiums around the nation. There are 21 private luxury suites in addition to 750 club seats which offer patrons access to an exclusive area with catered meals and full bars.
"Throughout the design process it was important to us to build a facility that could be multi-purposed for special events and have the level of amenities that discerning patron's desire," said Director of Athletics Rick Villarreal. "We host weddings, proms, concerts, business meetings and a variety of other events throughout the year and we wouldn't be able to do that without having a first-class facility."
Another unique feature for fans is the view from "The Hill", a tailgating area northeast of the stadium which serves on game days as a place to gather and a rallying point for students. It used to be a golf course before transitioning to a designated tailgate area that has provided fans, alumni and students a much-needed tradition before enjoying some football.
In a continued effort to attract new fans to games, the North Texas athletics department has partnered with local organizations to offer special ticket packages. This fall, the Mean Green is partnering with the Lantana Community Association and offering Lantana residents a ticket and tailgate package for just $15 per person for the Sept. 19 game vs. Rice University. The package includes a ticket to the game and access to a pregame tailgate event exclusively for Lantana residents.
The venue hosted its first nationally televised game on Oct. 16, 2012 when North Texas edged the Louisiana-Lafayette Ragin' Cajuns 30-23 on ESPN2. The broadcast had an estimated 366,000 viewers. The 2013 season started with a home game celebrating 100 years of football at North Texas with a crowd of 21,975 to watch a 40-6 Mean Green victory against Idaho.
In four years at Apogee Stadium, the Mean Green has compiled a stellar 16-7 home record outscoring their opponents by a +277 point differential in those 23 games. North Texas has had a winning season at home in all four seasons at Apogee Stadium (2011: 4-2), (2012: 3-2), (2013: 5-1), (2014: 4-2). They also had a six-game winning streak from Nov. 10, 2012-Nov. 23, 2013.
The Mean Green went 5-1 at home in 2013, tying for the second most wins in school history. The three seasons before 2011, the Mean Green went just 1-16 at home. In 2014 North Texas scored 77 points at home in Apogee Stadium, which was the fourth highest point total in school history and the most points scored at home in a game since 1940. In 2013, North Texas set an all-time home attendance record and set the single season average attendance record.
With five home games upcoming in 2015, the Mean Green is hoping to continue its tradition of being one of the toughest places to play, featuring games against in-state rivals Rice, UTEP and UTSA in addition to games against Western Kentucky and Portland State.
For tickets please go to MeanGreenSports.com or call the athletics ticket office at 800-UNT-2366.