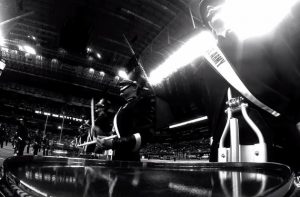 by Catherina Hurlburt
The summer is nearly over, and band camp approaches, if it is not already underway. The sounds of drum lines, Dr. Beat, band directors' commands on school PA systems, and beautiful music repeated until perfected will fill the air, as marching bands on high school campuses around the country prepare for the coming school year.
For 125 of those high school marching band students, this school year will be particularly exciting. Rachel Chow, a member of the color guard at Flower Mound High School, is one of them.
On July 13, the National Association for Music Education named the roster of the 2016 U.S. All-American Marching Band.
The U.S. Army All-American Bowl is the premier high school football game in the nation. Produced by All American Games, this bowl features the nation's top high school senior football players and marching musicians.
A student selected as one of the 125 U.S. Army All-American Marching Band members will receive an all-expenses-paid trip to San Antonio, to march in the halftime performance of the All-American Bowl at the Alamodome on January 9, 2016.
Catherina Hurlburt is the communications manager for the National Association for Music Education.