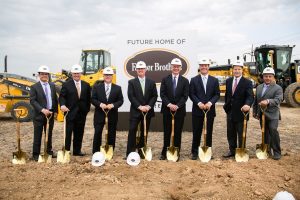 Farmer Bros, a coffee roaster and distributor with a history of more than 100 years, on Tuesday officially broke ground in Northlake on what will become its new headquarters, state-of-the-art roasting facility, distribution center and coffee lab.
It will be located near the intersection of E. Sam Lee and Ashmore Ln., just off I-35W near Texas Motor Speedway.
The company's move from Torrance, California is expected to bring more than 300 jobs to the area.
"Moving to Texas and building this facility will help us continue to do what we've done for more than 100 years: provide our customers with great coffee, industry-leading innovation and exceptional service," said Farmer Brothers CEO Mike Keown of the move.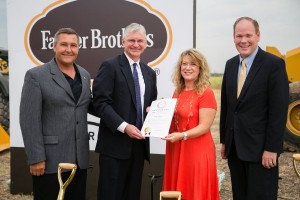 At the groundbreaking ceremony, Farmer Brothers executives were joined by Northlake Mayor Peter Dewing and Denton County Commissioner Andy Eads, as well as Stream Realty's Cannon Green, Bob Hagewood, Albert Jarrell and Chris Jackson to place ceremonial "gold" shovels into the ground to officially kick off construction of the historic new facility, which is being developed by Dallas-based Stream Realty Partners.
The headquarters plan includes SQF Level 3 certification (the most stringent Safe Quality Food certification), new, top-tier 'Probat' roasters, an advanced silo storage system designed to ensure freshness post-roast, a gentle-handling conveyor system and water-cooled grinders.
The facility is expected to be LEED certified and to showcase LED lighting, water conservation devices, energy-saving HVAC systems and furniture made from recycled materials, and its production capabilities will provide support for Farmer Brothers' future growth.
In addition, a planned teaching facility will provide Farmer Brothers the ability to promote an employee learning organization, as well as host classes for industry associations and customers throughout the year. A technologically advanced research and development lab will assist Farmer Brothers to deliver new innovation.
"We are working to ensure that the attributes of our new facility reflect the values of Farmer Brothers," Keown said. "LEED certification, much like at our Portland production facility, will enable us to lower our carbon footprint, and our investment in advanced coffee equipment means our customers will continue to receive top quality products."
Famer Brothers, which also sells tea and culinary products and operates additional coffee roasting facilities in Houston and Portland, Oregon, targets opening its new headquarters in 2016.
The company—founded in 1912 and publicly traded since 1952—has about 1,800 employees, and its clients include more than 60,000 food and beverage outlets nationwide.