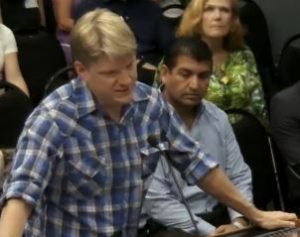 Two members of a Flower Mound board who were under fire for comments they made on a secret social networking page challenged their accusers Monday evening before the town council.
That's just hours before one of them was booted from their position by a 3-2 vote of the council.
"I come tonight to call out the hypocrisy and division that some on this council wish to foster," Jason Hitt told the council. "Through their pawns they have sought to lay out a narrative of mischief, by the citizens they swore to protect to distract from their own misdoings."
Hitt and Emily Strittmatter, both members of the planning & zoning commission, had been called to the carpet at a recent council meeting for allegedly maligning Councilman Bryan Webb on Facebook.
After a closed session, the council removed Hitt from his position as a Place 9 alternate for the P&Z. Councilmen Brian Rountree and Itamar Gelbman voted against the ouster. Councilman Kevin Bryant abstained from the vote, so Mayor Tom Hayden broke a tie by casting the first council vote he has registered in several years.
"As I think about this, what brought us to this situation is comments on Facebook," Hayden said after the vote to remove Hitt. "This involved Mr. Hitt. I wish he was here so I could ask him. I wonder why he would like to know the inner secrets about Bryan Webb. It just doesn't seem like that's appropriate to be trying to understand the inner secrets."
Last month at a council meeting, Philip Van Guilder said it happened on a secret Facebook group called "Grow Slow Flo Mo," with comments from several people. Strittmatter's comments, although on the same thread, were not targeting Webb, but were about her neighborhood, she said.
The council decided not to remove Strittmatter from her post. Earlier in the evening, her husband Nick Strittmatter said their family had received threats due to the situation, which he termed a "modern day Salem witch hunt."
"Mrs. Strittmatter seems very well intentioned," Hayden said. "Even if she made a mistake she seems very remorseful. I'm glad that she's going to remain a part of planning and zoning."
Gelbman told the council that he had recently been shown emails indicating that a member of the council was also involved in the secret Facebook thread. Without naming him, Gelbman called for that councilman to resign or "at least apologize to Webb and all 51 residents who were brought up in public humiliation at the last town council meeting, including the wives of two council members."
Later, Gelbman told The Cross Timbers Gazette that Webb was not his target. He said the councilman he was referring to has been a regular voting member of the council since May.