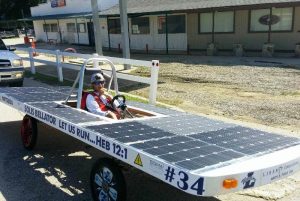 Liberty Christian's solar car program began a decade ago, and it has raced in the Solar Car Challenge (SCC) to Austin and all the way to California.
This October, students are taking it halfway around the world to compete at the World Solar Challenge in Australia where 46 teams will from across the globe, including the United Kingdom, China, and South Africa, will race. Liberty Christian, located in Argyle, is one of the few high schools to be represented.
"This is a once-in-a-lifetime opportunity for our students," said Dr. Brent Dragoo, Liberty teacher and sponsor. "The science they are learning through the solar car and the culture they will experience in Australia are immeasurable."
Recently, Liberty's solar car team participated in Congressman Michael Burgess' Energy Efficiency Summit at the University of North Texas' Discovery Park on July 11. Along with one of the car's sponsors, CoServ Electric, Liberty was invited to educate the public on energy resources. Liberty showcased its remodeled solar car and shared its plans to race it Down Under.
Clayton Odom, student and team manager, presented the team's project goals and the car's specifications. He told the crowd, "I have benefited so much from the solar car project by learning electrical circuitry, practicing teamwork, and building communications skills with the team and the community."
The car, named after the Latin words "Solis" meaning "sun" and "Bellator" meaning "warrior," received its most recent update from SBM Solar Inc., in the form of custom-laminated solar cells. The team carefully arranged the cells on the car's fiberglass top and wired them to the batteries.
Team member Cole Brolick said he looks forward to the race with great anticipation.
"As a high school team, we get to compete with elite colleges and universities from around the world," he said. "Through the solar car, I continue to gain valuable experience in electrical and mechanical engineering, and it has been a great challenge for us to work around efficiency barriers and meet the race's standards."
Even with plans for Australia, Dr. Dragoo and 2015 Liberty graduate Neiman Walker, who will attend California Polytechnic State University this fall, volunteered a week in July to judge the high school solar cars they usually compete against at the Texas Motor Speedway every summer.
"We are thrilled to give back to the Solar Car Challenge, an organization that helped develop our solar car program over the years," said. Dr. Dragoo. "We look forward to being a part of SCC's 2016 summer race to Minneapolis!"
While students are in Australia in October, Science Department Chair Heather Lytle will help them stay on track with their studies at Liberty.
The team departs for Australia on Oct. 8, but the solar car is already on its way – carefully packed in a crate and on a boat headed for the race. The race begins Oct. 18 in Darwin and concludes Oct. 25 in Adelaide.
Liberty's solar car team includes the following students: Michael Becker, Gabe Bezner, Cole Brolick, Brayden Dragoo, Henry Harshfield, Silas Hill, Austin Hunt, Cameron Mutis, Clayton Odom, David Qian, and Kevin Wissink.
Liberty wishes to thank its solar car sponsors: Peterbilt, CoServ, Family Allergy & Asthma Care, Lincoln Harris, Affinity Smiles Dental, Liberty's Student Council, Town & Country Investments, SBM Solar Inc., Cycle Center of Denton, Institute of Electrical & Electronic Engineers, Lyson LLC, Northstar Bank of Texas, Kwik Kar Auto Care Lantana, Sigma Signs, and many other Liberty friends and families.
The team continues to raise support for the car and the trip. For more information, please contact Dr. Dragoo at [email protected]