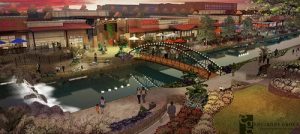 Five new restaurants have been named as tenants coming into the River Walk at Central Park development in Flower Mound.
Dee Lincoln's Steak Bar, a full service, 5,000-square-foot restaurant is coming, along with Tokyo Joe's and Torchy's Tacos.
Other tenants include Blaze Pizza and Steel City Pops, which serves gourmet popsicles about the size of an iPhone.
Some children's items and entertainment venues are also being discussed, according to Mark Wood, economic development specialist with the town.
The River Walk Market, which includes Market Street, La Madeleine, Mellow Mushroom, Luna Grill and Hollywood Feed, is already on the site.
The 158-acre project also includes a medical district — Texas Health Presbyterian Hospital, which is now expanding, an attached medical office building and another such building at FM 2499 and Central Park Drive. The 307 Park Central multi-family units are also part of this project.
By the end of 2015, the river pump system will be up and running, and the east infrastructure improvements will be complete.
Other items to be finished by the end of this year are:
A water wall;
Landscaping and artwork on the east side; and
A traffic signal at FM 1171 and River Walk Drive.
West infrastructure will begin by August, a road through Timber Creek will be started along with most housing components of the project.
Looking ahead, restaurant row will be open, along with an amphitheater, farmer's market and chapel. Landscaping and artwork on the west side, along with multiple housing options and a Courtyard by Marriott hotel will also be finished.
There will also be 2,705 trees planted on the site including red oaks, live oaks, Chinquapin oaks, cedar elms, slippery elms, lacebark elms and American elms among others.