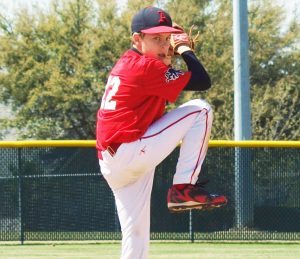 Ryan Hulke, 11, of Argyle will represent Denton County and the entire Midwest Region as a United States Specialty Sports Association (USSSA) baseball All-American in the USSSA All-American Games tournament in Kissimmee, Florida, Aug. 2-6.
Hulke was named to the 11U team as a pitcher and outfielder but can play first base if needed during the tournament. He participated in tryouts June 9th in Dallas, where he was evaluated by current and former scouts, college players and professionals on the five tools of baseball.  Evaluators were looking at specific skills like running, pitching, hitting and fielding and scored the athletes 2-8 on each skill following the MLB 20/80 scale.
Ryan and his family were on a baseball tournament trip in Cooperstown, NY, home of the Baseball Hall of Fame, on July 2nd, when his dad received the call to notify Ryan he was part of the elite group of 15 to represent the Midwest region.  The members of his team are the top 11 and under players from Colorado, Kansas, New Mexico, Oklahoma, North and West Texas and Western Missouri.
"We are so proud of Ryan.  Not because he made the team but because he didn't give up and he used the rejection from his first two All American Team tryouts last year as motivation.  He has always been a competitive kid so it was great to see him take his game to the next level when he was handed what most people would view as a setback.  He loves the game of baseball and we love to watch him play," explained his parents, Scott and Laura Hulke.
Hulke plays up an age group locally with the 12u Pro Source Athletics Watkins team in Carrollton but wanted the challenge of competing against kids across America.  He tried out for the All American team two times in 2014 and was not selected. Through hard work and determination he improved his scores at every skill they evaluate and was chosen to play for the team in 2015.  Hundreds of youth ballplayers try out for each of the eight regions and it is hard to stand out among so many good athletes.
"It really made me mad when I didn't make the team last year.  I knew what I had to do to improve and worked hard to get better.  The tryouts are long but each kid only gets 5 or 6 tries to field and throw a ball in the outfield and about 10 pitches to hit.  I knew from my last two tryouts, every single time I got the ball, it counted," Hulke explained.
"It is a terrible feeling to have a tryout and not make a team. It is one thing to know you tried your best and you didn't make it but I felt like last year, there were skills I could have done better on if I concentrated more, which if I am being honest, isn't always easy for an 11 year old," he added with a smile.  His hard work paid off with his selection this year and he is looking forward to playing in front of his grandparents and extended family that plan to make the trip to Florida to watch him play live.
Hulke added, "I can't wait to get to Florida.  It will be so fun to be around other kids my age from all over the country that love baseball as much as I do."
Hulke goes to Liberty Christian School in Argyle and looks forward to playing varsity baseball when he gets to high school but for now he'll settle for making the most of his opportunity of being a 2015 All American and doing his job for the Midwest Region this year.
Monday August 3rd is the practice day for all the regions and the opening ceremony is at 7:00 p.m. that evening to recognize all the young athletes.  Hulke and his Midwest region teammates will play in three pool games against the Far West, Northwest and Central regions.  The other regions, Northeast, Atlantic, Great Lakes and Southeast, are in the other pool.  The Championship Games between the winners of each pool will be played on Thursday, August 6th and 7th, depending on the age group.
Article submitted by Kristy Day