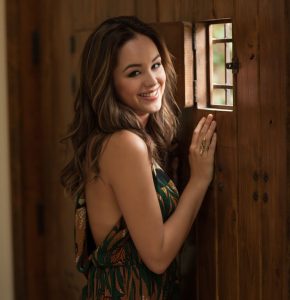 Hayley Orrantia is spending her days split between Arkansas and Los Angeles, but during her youth, she and her friends could be found sipping Ocean Water at the local Sonic or watching movies at The Shops at Highland Village.
Best known for portraying Erica Goldberg on the ABC hit comedy series The Goldbergs, the actress was born in Arlington, but grew up in Highland Village, attending Marcus High School until her acting career made it more convenient to be home-schooled. She's 21 now, far from home, and looking back fondly on the place where she got her start.
"I'm glad that I grew up in the area that I did because it taught me a lot about humility and just kind of growing up in a smaller town," Orrantia said. "Kind of having to focus on my craft and what I do, versus if I grew up in L.A. or a big city where you have to compete with other people from the get go."
Orrantia is just starting filming for her latest role – in the movie God's Not Dead 2, which is slated to hit the big screen next year.
"I did have a lot of support growing up," she said, adding that singing at small town festivals where her family and friends saw her on stage was a big factor. "It was like climbing a ladder."
In fact, singing like she did as a young person was what she wanted to do as a career. Acting was an afterthought once record labels said she needed a platform and a following before they would sign her.
"I started taking acting classes in Lewisville," she said. "I wasn't sure if I really wanted to do it. I didn't understand the concept of acting for a long time. I just kept going to auditions … then I got The Goldbergs role. Ever since then it's been a little more normal for me to do it I guess.
"The idea of having to sit in a room and ask a bunch of questions about who this character is and what they're feeling. It was a crazy concept to me. Eventually I started realizing … that I can play myself within every character. Playing it more real. I try to be as natural as I can be."
But when she's visiting Highland Village, where her parents still live, things aren't quite as natural.
"It's a different felling now," she said. "There was a very big jump after I went on The X Factor and then I came home. Then again when I moved to L.A. and would come home."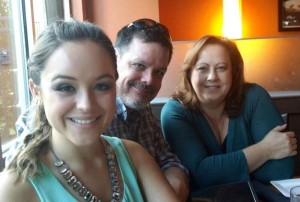 Orrantia was a contestant on the reality singing competition show in 2011.
"Every once in a while I will get seen — like when I'm shopping at The Shops at Highland Village people come up and say, 'Awe I love the show.' That gets me really excited."
Orrantia said that she really missed Highland Village when she first moved to L.A.
"I even wrote a song about it. I really missed home and I wasn't sure about the people in L.A. Now I don't know … I really, really love L.A. I'm 21 living in a really cool city, that's where work is, so that's really awesome."
As for her success, Orrantia said it's all about the support of her parents. They helped her get into Cathryn Sullivan's Acting for Film Studio in Lewisville. Sullivan has worked with the likes of Selena Gomez and Demi Lovato. Making it to the top is also thanks to Mom and Dad, who helped Orrantia prioritize opportunities for her future.
"It gets hard and tiring and you're growing up in high school and you want to go to a football game, or prom and all that," she said of her budding teenage career. "You're like, 'I can give up an audition to go to this.' I did go to quite a few of them. My parents helped me focus on what I wanted to do."
So how does a small town girl go from pie-in-the-sky to a real, live gig?
"It was a very easy transition for me," she said. "I went to a high school with 4,000 kids and I never knew everyone. I was used to always being around a lot of people.
"I've always spent my time daydreaming so I think I've just played it out in my head so many times that when I got here it was like, 'Oh, this feels like I've lived here forever.'"
As for her current silver screen project, Orrantia said the theme of God's Not Dead 2 resonates with experiences of her own as a believer.
"I was in L.A. between seasons of The Goldbergs when I got the call," she said. "I was very excited about it because the [first] movie had done really well. I got the script and about two weeks later I was headed to Arkansas where we're filming.
"I think this movie specifically hits a subject as far as what Christians are dealing with in public schools today and people are scared to talk about it," she said. "Just like people are scared to talk about a lot of things.
"The writers and directors made sure to create a storyline that – unlike some other faith-based movies — won't squeeze the central characters into the role of a victim. "They did a really good job of trying to see … that we are open to accepting other people," she said.
And maybe that sounds familiar to Orrantia because of Mr. Robinson, her fourth-grade teacher at Heritage Elementary School.
"He was one of the most supportive teachers I've ever had," Orrantia said of Philip Robinson, who still uses her school work as a model to his current students. "He was very kind and he took his time. He's still friends with my family. He was just super sweet and supportive."
Along with her current movie work and The Goldbergs, Orrantia is also working with producer and Texas native Mark Bright (Carrie Underwood, Rascal Flatts) in Nashville to put out a country/pop style EP soon.
Despite her travels and becoming the focus of a high-wattage limelight, Orrantia finds that her roots are really what gave her those wings.
"Thanks to everyone who has supported me when I started at those pumpkin festivals all the way until now. It's been quite the journey," she said. "Overall I'm happy I grew up in Highland Village. I would not have wanted to grow up anywhere else. I've met awesome people [there] and I'm very proud to say I'm from there."