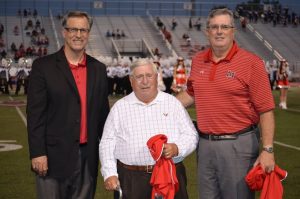 Back in 1984 Kirkpatrick was a gravel road with a massive water tower at the end of it. This is the time I started 9th grade at Marcus High School in Flower Mound. During those early years there was a man whose voice we heard every morning: Larry Sigler.
Many today know him for the auditorium named in his honor or his recent induction into the Marcus Hall of Fame. I knew him as a fierce defender of the right of every student to succeed and one of the kindest folks I have known in my 45 years.
Mr. Sigler lived for the spirit of a Marcus pep rally and for almost 20 years he was the face and the spirit of Marcus. From running a 9th grade school that was half finished to graduating our charter class in 1988, he was a strong leader and brought our alma mater into being. "Boombah-hey" is not a foreign concept to anyone who attended Marcus during his tenure.
My time at Marcus ended in 1988 as I graduated with the charter class, but I kept in contact with Mr. Sigler as his leadership helped Marcus become a Blue Ribbon school as well as a consistent institution of excellence. Excellence was present in academics, athletics, and service to the community. Larry Sigler was a role model for thousands of students over the years.
In his retirement, Mr Sigler battled numerous health problems. I would see him around town and he always remembered me, and we would talk about the tradition of excellence that lived on at Marcus. It was difficult to see age and disease dull a mind that was always so razor sharp. Larry Sigler fought a hard and courageous battle.
Mr. Sigler was a kind man, a generous man, and a giant in the community of Southern Denton County. I am proud to have known him. May he rest in peace and may all who knew him find peace in his well lived and monumental life.
Scott McDearmont is a former Highland Village mayor.