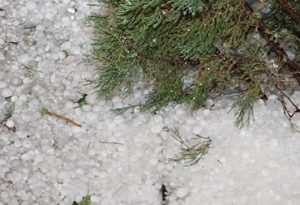 A violent complex of thunderstorms slammed into southern Denton County early Tuesday and left destruction in its wake.
Damage reports came pouring in around 3 a.m. with trees and fences down, windows blown out by golf ball sized hail and reports of smoke inside homes due to lightning strikes.
Some roads were temporarily impassable due to storm debris.  The Denton County Sheriff's Department reported that a fallen tree was blocking the entire eastbound lanes of FM 407 near McMakin Road in Bartonville.
CoServ crews responded to multiple power outages in Argyle, Flower Mound, Highland Village, Lewisville, Castle Hills and other areas, with an estimated 7,000 customers affected.
The area received nearly 3.5 inches of rain, according to unofficial rain gauge totals from residents in Flower Mound and Lantana.