Marcus and Flower Mound high schools placed second and fourth respectively in this week's UIL State Marching Competition, held at the Alamodome in San Antonio on Oct. 30–31st. Fellow LISD band Hebron High School in Carrollton finished third.
Marcus finished with a total of 22 points, and Flower Mound finished with 37. The seven-judge panel assigns a number rank for the category they judge. Categories range from visual and music effect through content, with the lowest score representing the best overall performance.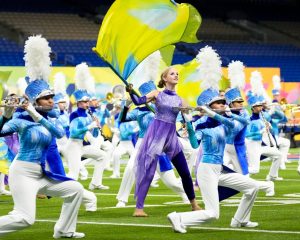 Marcus' show, titled "Above the Noise," and Flower Mound's, titled "Deconstructed," were both visibly gorgeous. Both schools' talented and award-winning color guards provided the extra pop of colors while running around the field tossing rifles, sabers, and flags over their heads and/or spinning them in perfect synchronization.
Lewisville ISD bands have placed at least one of these three schools in the top three at the state marching competition since 2006.
(Submitted by Allen David Photography)