Sue Murray admits that she and her late husband, Robert Ledbetter, were hooked on the Flower Mound Presbyterian Church from the second they started attending services more than 25 years ago. They felt like more than just a couple of new faces in the crowd; there was and still is a genuine sense of community — so much so that they were eventually married there in 1996.
"I've always said that once people come, they'll love it and stay," Sue said. "That's what we did."
Sue is now in her 70s and can't imagine worshipping anywhere else, even after Robert passed away eight years ago. The problem is that their loyal congregation is dwindling because families aren't walking through those historical doors at quite the same clip as they used to. Much of that is because their existing members are older and physically can't attend church regularly. But recent national statistics show attendance on Sunday mornings, regardless of age and denomination, is on a sharp decline.
At least, that's according to one Gallup poll that shows a continuing decline in church membership for more than two decades. U.S. church membership was 73% when Gallup first measured it in 1937. According to its 2020 statistics, it's now at 47%, mainly due to the increasing number of Americans who express no religious preference.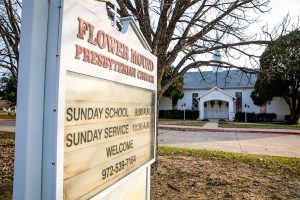 Flower Mound Presbyterian Church — established in 1854 — has just 25 active members.
With so few new members, those who are left are focused on saving the only church they've ever known.
"It's not just us. But we've been here the longest, and we are trying different strategies to remind people that we are here," Sue said. "People drive by and think we are just a wedding chapel, or they see the school and think we are just a private school. But we are a fully-functioning church and have been for a long time."
She added, "It's so warm and welcoming here, and I think a lot of people would appreciate the historical piece."
The historical piece is one talking point no local church can match. Flower Mound Presbyterian Church is one of the oldest continuing Protestant churches in the state — it's even older than the Town of Flower Mound, which held its incorporation meeting at the church in 1961. The church has also lovingly preserved its original furnishings and all of the cherished memories that go with them. Each Sunday, the sanctuary is flooded with music from a baby grand piano donated years ago. The original pews still sit in their initial circular arrangement around the lectern, which also dates back to the church's humble beginnings.
The church was founded by Reverend Matthew B. Donald in 1854 and saw its first log building built at what is now 1501 Flower Mound Road three years later. Before that, the congregation met in people's homes each week. The original name of the immediate area was Long Prairie. Geographically, it included a rather narrow but lengthy stretch of the east-west open country immediately south of Hallford Prairie. Even as late as 1879, in the deed given by Rev. Donald to Flower Mound Presbyterian Church, the location is described as "on Long Prairie."
The church organizers were Rev. Donald, E. L. Lusk, Rev. Newton Lusk, Sam Lusk, Robert Donald, Jim Cowan, and George Beavers. And in the early days, annual camp meetings were held on the grounds in the summer. They lasted two weeks, and people came from 30–40 miles away to worship.
Some stayed for the whole two weeks and brought cooking utensils, bedding, clothing, and even a cow for milk.
Also included is the church's on-site cemetery, the first known cemetery in Flower Mound. Both the church and cemetery are considered historical landmarks. The church earned that distinction in 1967, while the cemetery landmark was erected in 2003.
Sunday school started in 1895, and by 1901, the original log building was replaced by the current building. A steeple was added in 1975, and their ornate stained-glass windows were erected in 1994. The church celebrated its 150th anniversary in 2004.
"The building is so beautiful despite how old it is," Sue said. The present structure was built around the original log cabin to preserve its history. "I think that's what catches people by surprise when they walk in and see the stained-glass windows."
But there's no denying that the pews are a little bare these days. Sue added that the church reached 100 members for the first time in 1875 and remained popular among traditional church-goers in the centuries that followed.
But on a good day in 2023, there are just 15 people at any given service.
She says the reality is that the good old days of worship could come to an end unless new members join the fold.
"Attendance is down to a dozen or less each Sunday, and most of that is because many of our members aren't driving or have health issues," she said. "So we are simply asking families — maybe they're in their 30s and 40s and are looking for a home church — to come see what we are all about. It's such a beautiful church."
She added, "We've been here forever, and we don't intend to go anywhere anytime soon."
To learn more about the church and its rich history, visit fmpresbyterian.org.