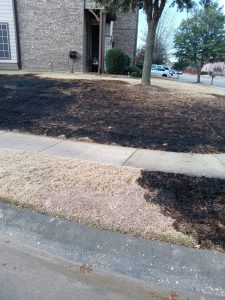 A Lantana woman is thankful for her neighbors' quick thinking when they put out a fire on her lawn on New Year's Day.
Denise Marshall said she was on her way home from her mother's funeral late Sunday afternoon when she got a call from her neighbor, saying that there was a grass fire at her house.
"When I got home, I was aghast by what I saw," Marshall said. "Three-quarters of my lawn was pretty much burnt up."
Neighbors told her that they heard a loud noise and when they looked outside, they saw her lawn on fire. They used their own hoses to extinguish the fire before firefighters arrived. Denton County ESD No. 1 firefighters made sure there were no hotspots and checked the gas line on Marshall's property on Claire Street.
Neighbors' surveillance videos showed someone in a dark colored vehicle threw a lit firecracker onto Marshall's lawn, causing the loud noise and fire, Marshall said.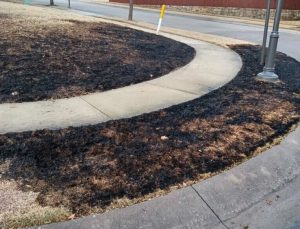 "I want to thank my neighbors who were extremely helpful, with the fire and the footage," Marshall said. "Had it been late in the evening, or if no one was home, it could've been a tragedy. Especially with the gas line right there, the whole block could have been engulfed."
While she was talking to law enforcement and a fire marshal, a man and teenage boy came to her house, and the boy told her that he was in the vehicle and a friend of his threw the firecracker. The other boy was aiming for the gutter, because they thought it would make a louder noise, but misfired.
"The boy's father said he took full responsibility … but it's been almost a week and I'm still waiting for him to send someone out for an estimate," Marshall said. "I'm very discouraged."
Marshall said the HOA declined to offer assistance for replacing her lawn, and she knows that the HOA will want it taken care of, and soon.
"This is not something I am able to address, emotionally or financially, but I don't have a choice," she said.
Marshall said she will pursue legal action if she is not made whole soon.
"The parents need to take responsibility," Marshall said. "Somebody has to be accountable for it."