The Lewisville Fire Department dive team responded to three separate drowning incidents in/near Lewisville Lake on Tuesday.
Around 12:45 p.m. Tuesday, a woman reported that her husband, 77, was fishing in Clear Creek, in the Clear Creek Natural Heritage area just northwest of Lake Lewisville, when the bank gave way and he fell into the water and didn't resurface, according to a news release from the city of Denton. The current was rough and fast, and dive team crews didn't have a good location to dive.
Crews from the Denton, Flower Mound and Lewisville fire departments and the Texas Game Wardens searched the water with limited resources due to muddy trails, limited access, log jams and flooding conditions. The search was suspended about 8 p.m. due to darkness and resumed at 9 a.m. Wednesday. The victim's body was recovered about 2:30 p.m. Wednesday about 100 yards downstream from where he fell in.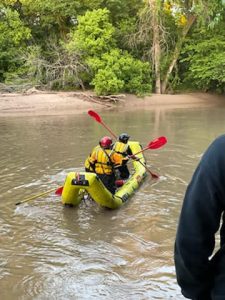 The man's name has not been released, as of Wednesday afternoon.
About 5:15 p.m. Tuesday, the LFD dive team responded to a call from Little Elm at the Swim Beach, according to a Lewisville city spokesman. There, the body of a 43-year-old woman, whose name has not been released, was recovered.
About 7:45 p.m. near Lewisville Lake Park, 25-year-old Wendell Allgood Jr. of McKinney was trying to swim after a boat that had gotten away from him when he went under the water and didn't resurface. The LFD dive team located him in the water around 9 p.m. and administered CPR while transporting him to the hospital, according to Martucci. He was pronounced dead at 9:18 p.m.
Each spring, as area residents head to nearby lakes for recreation, local fire departments urge lake goers to always wear a life jacket when they're in the water or on a boat.