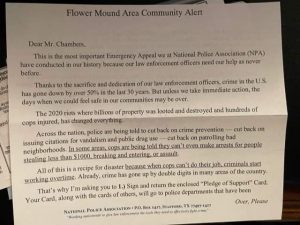 Update: On Thursday, the town of Flower Mound and Flower Mound Police Department now say that the "Flower Mound Area Community Alert" letters are not actually a scam, as the department originally said earlier this week.
A FMPD social media post earlier this week called the letters a scam, and that news was reported in this story, but FMPD has since determined that it is a legitimate fundraising effort.
"We've removed the word 'scam' from the post, as the organization is a registered 501c3," a town spokesperson said.
The social media post about the letter now reads:
"Several of our residents have received this letter soliciting pledges for law enforcement. The Flower Mound Police Department has no connection or relationship with this organization and does not support these efforts. Please be vigilant, do your research before donating to unsolicited requests, and share this information with friends and family – ESPECIALLY our elderly community!"