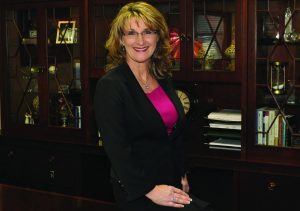 A chamber of commerce is an association or network of businesspeople designed to promote and protect the interests of its participants. Chambers of commerce, and their members, share a common goal of highlighting and improving the success of its associates.
By organizing functions and inviting residents to familiarize themselves with the various products and services in the community, the Chamber acts as a marketing agent that enhances the achievements of its members.
Shelly Dodge is the Chairman of the Flower Mound Chamber of Commerce and agreed to an interview in order to further explain the benefits of being a Chamber member. Shelly, who is very accomplished in the area of finance, contributed the following short bio:
"Shelly Dodge has 35 years of experience in the financial industry. She started her investment career in 1986 in the operations of a brokerage firm.  She moved her focus to the Trust and Estate Planning area where she gained extensive experience helping manage high net-worth clients. With the variety of assets held in trust accounts, Shelly managed not only stocks and bonds, but also real estate, oil and gas and other types of investment vehicles.  In 2000 she was asked to head up the Investment Dept at a local community bank. This experience deepened her knowledge in investments, and she learned what it really took to put the customer first.
"Shelly founded Visionary Financial Group where her vision is to help you understand your financial options and stay on track, even during difficult times. This is a long-term commitment to work beside you throughout years to come. Visionary Financial Group has grown to a staff of four including another Financial Advisor. She graduated from the University of Texas in Dallas, where she earned her Bachelor of Economics and Finance Degree. She has her Series 7, 63 and 65 licenses as well as her General Lines insurance license.
"Shelly is proud to be active in her community and is involved with her church. She is currently serving as the Chairman of the Board for the Flower Mound Chamber of Commerce as well as the President Elect for the Cross Timbers Rotary. She enjoys spending time with her four children. She loves to travel and has visited over 32 states and 19 countries."