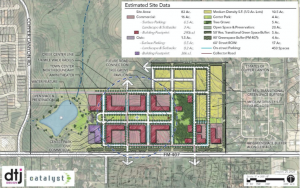 The town of Copper Canyon will conduct public meetings this week about its proposed updated Master Plan.
In 2019, the Master Plan Committee was charged with updating the 2004 Master Plan, specifically as it relates to identifying a site for commercial development and a future location for civic uses, including a town hall and community gathering area, according to the town. After conducting a town-wide survey, the committee identified two potential sites for this future development and three development options: residential only, mostly residential and some commercial, or a mixed-use with a balanced mix of residential, commercial and civic.
After evaluating the public input and the options, the committee came up with a mixed-use plan for 83 acres in the northeast corner of Copper Canyon Road and FM 407.
In this proposed draft Master Plan, there's 10.5 acres of medium density residential, 16 acres of commercial, 20 acres of open space, a four-acre center park and a five-acre tree grove. The center park would separate most of the commercial buildings and lead from the tree grove to the town hall and an amphitheater, with open space and a water feature on the other side of the amphitheater.
The town has provided the following statement from the committee:
"We truly believe that this project is one of the best options to consider for the future of our town. The goal is to create a unified vision for Copper Canyon that can contribute to our tax base and add quality of life amenities to our community. Through this process we are creating a thoughtful approach that responds to the citizens' desire to protect Copper Canyon's rural character and lifestyle quality by ensuring the protection of large areas of open space and natural areas that also balances existing property rights and other constraints. Our sincere hope is that we as a Town can embrace a plan through this process that directs a road map that creates prosperity for all our residents, while protecting the values that are so dear to us in Copper Canyon."
The town will conduct a public meeting via Zoom at 7 p.m. Tuesday, in which the town will walk through the process of developing the plan, the constraints and the value that could be brought to the town. Click here for information about how to join the Zoom meeting.
Two smaller meetings will be held in person at 9 a.m. Wednesday and Thursday at Copper Canyon Town Hall, 400 Woodland Drive, where staff and Mayor Ron Robertson will have hard copies for residents and can answer questions. Residents interested in coming to those meetings are asked to call Town Hall at 940-241-2677 beforehand.
After these public meetings, the final Master Plan and Concept Plan will be presented on Sept. 28, and council will consider voting on it on Oct. 12.