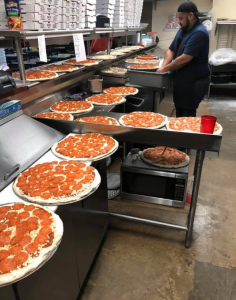 A Roanoke pizzeria is offering area residents in need of a free hot meal three days a week — no questions asked.
"There's a lot going on at home right now," said Rene Alanis, kitchen manager at Wise Guys Pizzeria. "You don't have to worry about cooking."
Since the coronavirus pandemic reached North Texas, and stay-at-home mandates have forced many businesses to close or reduce services, Wise Guys has been offering about 30 pizzas and salads on Monday, Wednesday and Friday mornings available for pickup, free of charge. Alanis said the pizzeria owner, Kevin McNamara, wanted to give back to the community during this hard time when many people have lost their income.
"He wanted to help the people who need it most," Alanis said. "Everybody has been impacted by this, and we want to share some hope."
Alanis said the community has continued to loyally support the restaurant since it had to close its dining room, and it's that that has kept Wise Guys open and able to to help others.
"Otherwise, we would probably be closed by now," he said. "For us, to not lose any employees, everybody still working and getting paid, is huge help."