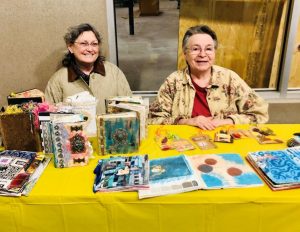 By Elizabeth Brannon
When you think about seniors and the arts do you tend to think about Arts and Crafts? Or when you hear "seniors" do you think of high school students? How many of you know about the art programs and classes happening at the Flower Mound Senior Center?
Jaime Jaco-Cooper, the Flower Mound Senior Center Manager, described a diverse, robust and popular art program that exists at the Flower Mound Senior Center and is open to all.
There are three painting classes and workshops per week at the Senior Center with 11-20 people participating per class. Classes are offered in acrylics, watercolors and painting for beginners, a little like Painting with a Twist.
The Flower Mound Senior Center hosts an art show every year. The art is displayed in the main concourse of the Senior Center – always in the summer – and is available for several weeks. Normally, the seniors show their artwork in the Art Party at the Library every fall. This year was an exception, due to the space challenges created by the library expansion construction. To see some of the paintings the seniors have created, visit the Facebook page for Flower Mound Seniors in Motion and browse the link for Photos. You'll see some beautiful works created by our residents.
In addition to the classes in painting, there are other creative opportunities at the Senior Center. There are classes in Improv, led by an instructor, with 20 people per week participating. Jaime said they have a great time with Improv and demonstrate a lot of creativity and spontaneity.
There is a class in poetry, in which eight people participate, and discuss poetry.
There is a Dance class –specifically line dancing – led by volunteers, with approximately 60 – 100 people participating every week. It's fun and provides great exercise.
Finally, there is the Art Journaling program, that 15–20 percent of the members of the senior center support. In speaking with a few members who are part of art journaling, they said initially, there was a class in visual journaling and two members attended to support the instructor, who was a friend. Neither had done any visual journaling prior to the class, and they didn't see themselves attending further. However, they were both hooked from the first time they participated. Now, one drives from Bedford to attend the classes.
Another participant in the journaling group at the Senior Center said that she began visual journaling as a way to get through a tragic event in her life. She said that there were no words for the anger and sadness that she felt, but she was able to express it visually. For her, it clears the negative energy in her body and helps her express herself in ways that she cannot using words alone.
When asked the question of why continue to create visual journals, overwhelmingly the group agreed that it was therapeutic, a way to combat stress, and was cheaper than therapy! Many used the word "play" as they described the processes that they work in. One referred to creating a visual journal as a way to release their inner child.
At the November 15 Art Party, two members from the Senior Center brought several visual journals to show the attendees. Currently, the town is celebrating the arts by encouraging residents to create a visual journal that will become part of the visual journal library. Seeing the work from the Senior Center members was informative and inspirational to the few dozen town residents who took a blank journal to create their own visual journal.
Seniors In Motion of Flower Mound is an organization of citizens over 50 years of age which recognizes the value seniors contribute to Flower Mound and strives to provide resources that enable the continuation of full, active, healthy, and happy lives.
You can learn more about our seniors and their contributions to the arts by visiting the center at 2701 West Windsor Dr., Flower Mound, TX 75028, calling 972-874-6110, or seeing their Facebook page to follow their activities, classes and events.
Elizabeth Brannon serves on the Flower Mound Cultural Arts Commission.