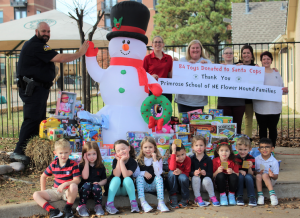 Primrose School of NE Flower Mound families recently donated 84 toys to the Flower Mound Police Department Santa Cops program.
The toy drive put on by Primrose is part of the Preschool's Caring and Giving program and helps students understand the value of generosity and giving without expecting something in return, according to a news release from Primrose Schools.
Santa Cops is an outlet for those who want to make Christmas brighter for a local child, as well as provide an opportunity for a positive interaction between the Flower Mound Police Department and those children. Click here for more information.