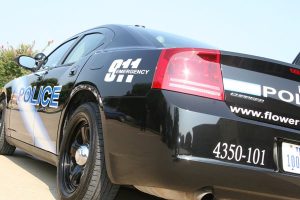 The following was compiled from Flower Mound Police Department incident and arrest reports:
On Aug. 28 at 7:49 p.m., a 48-year-old woman called police because she wanted to be arrested for assaulting her husband with a frying pan. The woman was charged with aggravated assault with a deadly weapon.
On Sept. 12 at 3:19 p.m., officers were called to a reported burglary of two vehicles in a garage in the 600 block of Gentry Lane. The victim told police he chased the suspect out of his garage, and the suspect got into his vehicle and drove away. A Lewisville police detective later saw the suspect's vehicle and had to pursue him. The suspect, 29-year-old Ramon Sarmiento, was arrested and charged with the two counts of burglary and evading arrest.
On Sept. 19 at 9:43 p.m. police responded to a reported shooting in the 4600 block of Shiloh Road. The victim told police that the suspect had fired his handgun twice in the victim's home, then left. Police found the suspect, Alfonso Vasquez Cruz, and learned that the firearm was reported stolen by the Addison Police Department. Cruz was charged with deadly conduct and theft of a firearm.
On Sept. 27, members of the FMPD Narcotics Unit executed a search warrant at a house in the 1500 Rustic Timbers Lane. Police arrested a 33-year-old man on three THC manufacturing/delivery charges, as well as a charge of unlawful possession of a firearm by a felon. Officers also arrested a 33-year-old woman on three THC manufacturing/delivery charges, as well as an on-view charge of THC possession. THC is the active chemical in marijuana that gives the high sensation. It can be removed from marijuana and consumed in other ways. While executing the search warrant, detectives located and seized two pistols, a rifle, over 1,000 rounds of ammunition, about $8,300 in cash, and more than 100 fraudulent credit cards.
On Oct. 26 at 10:33 p.m., police were called to a major crash in the 2800 block of Morriss Road. Investigators found that a black Ford Mustang was traveling north on Morriss at a high rate of speed while racing an unknown vehicle. The Mustang struck a third vehicle that was turning from a side street, and that driver was injured. The driver of the Mustang, Joshua Thomas, was arrested on suspicion of racing on highway causing bodily injury.
On the evening of Nov. 1, someone reported an intoxicated person in the football stands of Flower Mound High School. Bogdahn Vasyutynskyy, 17, was arrested on suspicion of public intoxication under 21, assault of a public servant and resisting arrest.
On Nov. 15 around 11:30 p.m., a driver in a Mercedes ran the stop sign at Lakeside Village Boulevard and FM 2499 and struck a Hyundai vehicle headed south on FM 2499. The Hyundai driver was transported to the hospital for treatment and later released from the hospital. The Mercedes driver was arrested on suspicion of driving while intoxicated.
A Flower Mound High School student was charged with assault after a fight in one of the school's bathrooms on Nov. 19. The fight was witnessed and recorded by several other students, with video footage circulating on social media. The incident was severe enough to warrant attention from the Flower Mound Police Department, which issued an affidavit and arrested one of the students Friday morning Nov. 22. The student, 17, is being charged with assault and tried as an adult, according to FMPD. Lewisville ISD would not release specifics, but said no student was transported by emergency services to the hospital.