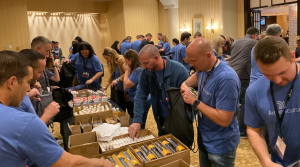 Local businesses recently gave a sizable donation to the United Way of Denton County and volunteered lots of time, both in efforts to aid homeless people in the area.
Last month, more than 200 employees from global healthcare solutions leader AmerisourceBergen, which has locations around North Texas, took time out of their national leadership conference at the Hilton Dallas Lincoln Center to "Live United" by assembling 800 disaster relief kits with United Way of Denton County, according to a UWDC news release. The disaster relief kits — which each contain a flashlight and batteries, toothbrush and toothpaste, deodorant, washcloth, first aid kit, AM/FM radio, comb and 2-1-1 resource card — will be distributed across North Texas.
The assembly was part of AmerisourceBergen's national partnership with United Way Worldwide to facilitate group volunteer activities during team meetings across the continental U.S. UWW helps connect AmerisourceBergen with local United Way chapters where meetings are being held, and activities include creating disaster preparedness kits for animals and seniors, compiling literacy kits for young children, assembling basics for newborn babies and more. With help from UWW, AmerisourceBergen chose United Way of Denton County as its local partner in North Texas for this team-building activity.
"At AmerisourceBergen, this is a great way to put our company Purpose to create healthier futures into action," said Susan Lorenz Fisher, Vice President of Corporate Citizenship at AmerisourceBergen. "Through our partnership with UWW, we're able to enhance the value of large team meetings across the county through positive team-building activities that make a difference. The partnership with United Way of Denton County was a success, and we hope the 800 kits assembled bring some relief to those in need in North Texas."
United Way of Denton County plans to utilize the kits for disaster relief situations, like the tornado that tore through North Texas last month, as well as for distribution to people experiencing homelessness during street outreach and the upcoming Point In Time Count, the federally mandated one-day homeless census, on Jan. 24.
"We are thrilled to join AmerisourceBergen and United Way Worldwide in our work to improve and transform lives In Denton County," said Gary Henderson, President & CEO of United Way of Denton County. "This seemingly small gesture of employees assembling kits will have a ripple effect in our community. We look forward to building on this partnership with AmerisourceBergen employees in Denton County."
United Way of Denton County is actively recruiting volunteers for the one-day homeless population census. Visit www.unitedwaydenton.org/point-in-time for more information and to sign up.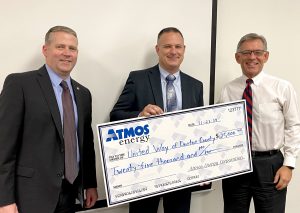 Also last month, Atmos Energy announced its gift of $25,000 to United Way of Denton County to support county-wide efforts to make homelessness rare, brief and nonrecurring.
John Manganilla, Manager of Public Affairs for Atmos Energy, made the announcement while presenting the donation at a recent United Way of Denton County Board of Directors meeting.
"Atmos Energy always looks for ways to give back in the communities we serve," Manganilla stated. "I've heard a lot about the homelessness work United Way does, and Atmos Energy will be donating $25,000 to United Way this year."
The funds are earmarked to support the Denton County Homelessness Leadership Team, a county-wide consortium of appointees from the business, government, and nonprofit sectors under the direction of United Way of Denton County, according to a news release from UWDC. The team fosters an effective and coordinated system of homelessness prevention and intervention to make homelessness rare, brief, and nonrecurring in Denton County.
"John (Manganilla) is a new appointee from the Denton Chamber of Commerce to serve on the Denton County Homelessness Leadership Team," said United Way of Denton County President & CEO Gary Henderson while accepting the check. "Atmos is supporting financially as well as through John's appointment on the Leadership Team."
To learn more about how Denton County works together for solutions to the challenge of homelessness in our community and to make a donation, visit www.unitedwaydenton.org/homelessness.