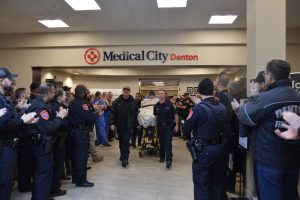 Denton Police Officer Urbano Rodriguez was taken to a rehabilitation facility Wednesday to continue his recovery from two gunshot wounds he received while on duty last month.
Rodriguez was shot in the head and femur during a routine traffic stop on Oct. 29, according to Denton police. The suspects got away in their vehicle, but they were soon found and arrested.
Rodriguez had been in the hospital since that incident until Wednesday, when he was transported by a police motorcade to the Denton Enterprise Airport and flown to an out-of-state rehab facility, according to the department. The fire department crew who transported him to the hospital immediately after the shooting also helped transport him Wednesday, and his police shift mates helped load his stretcher onto the plane.