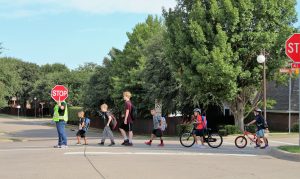 A week after assuming crossing guard duty in Flower Mound, the police department is seeking a handful more.
In August, the Flower Mound Town Council voted 3-2 to shift crossing guard duties from an outside vendor, All City Management Services, back to the police department. The council's decision was to cancel the contract effective Jan. 1, but the ACMS contract only provides a 90-day contract termination notice, so the effective transition date was moved up to Nov. 6.
All 62 crossing guard sites covering 22 Flower Mound schools are fully staffed with at least one experienced crossing guard at each site, the department said last week. Now, the department is looking to fill two to four more crossing guard positions.
If you are interested, fill out an application online. If you have questions about these positions, contact the Crossing Guard Supervisor at 972-874-3380 or [email protected].