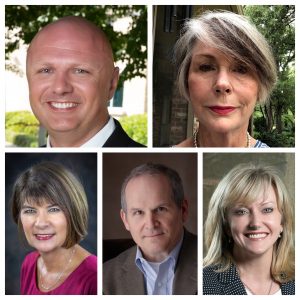 The United Way of Denton County added five new members to its Board of Directors to represent the southern half of Denton County, an area where it is expanding its outreach.
Michael Thomson of Hickory Creek has served the Denton County area through fire service for 21 years and currently acts as Fire Chief for Highland Village.
Ann Pomykal of Corinth retired from a 25-plus-year career with Texas Instruments in philanthropy and community outreach with extensive United Way leadership experience. Pomykal has served on the board for United Way Metropolitan Dallas and United Way America.
Melinda Galler of The Colony brings over 10 years of United Way experience to the table from her years on the Greater Lewisville United Way board. She now works as the Assistant City Manager for Lewisville.
Guy T. Phillips of Highland Village has actively supported UWDC as a photographer and volunteer with the Allocations Committee and Project Blueprint Board Leadership Development program. Phillips also has experience with community involvement during his time as a corporate educator at a Fortune 500 company.
Andrea Roy of Grapevine is heavily involved with the Denton County business community in her role as the Economic Development Director for the town of Flower Mound.
"United Way of Denton County is a community-focused organization that delivers positive results through careful assessment and keen financial acumen," Phillips said. "I believe in the direction of United Way of Denton County, and I look forward to doing my part to continue the organization's success."
United Way of Denton County recently partnered with United Way Metropolitan Dallas to better serve the needs of a growing Denton County while still preserving the autonomy of both organizations, according to a news release from UWDC. The collaboration gives UWDC license to expand its fundraising reach into southern Denton County, where it already engages with nonprofits, governments and businesses addressing county-wide issues like homelessness and mental health.
"As our organization expands to encompass the whole county, our board room must reflect the breadth of the region we serve," said Gary Henderson, President and CEO of United Way of Denton County. "The leadership, talent, and experience of these five new board members elevates our reach and will help us improve and transform more lives in Denton County."
Comprised of volunteers from across Denton County elected to three-year terms, the Board of Directors is responsible for the governance, oversight, and strategic direction of United Way of Denton County. To view a complete list of the Board of Directors and Lifetime Members, go to www.unitedwaydenton.org/Leadership.