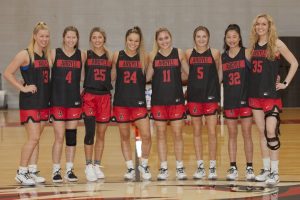 In the academic 2018-19 year, three of the girls' basketball programs in southern Denton County reached the postseason levels. With this year's basketball season getting underway, several area programs have some exceptional talents returning and area coaches are optimistic.
The Argyle basketball team brought home its fifth consecutive State Championship last season and does not appear to have lost much in the way of firepower for 2019-20.
The Lady Eagles finished 34-7 and were 8-0 in District competition, hammering their way through the postseason. They eventually defeated Hardin Jefferson by a score of 49-41 in the State Championship game.
Argyle returns four starters, including Rhyle McKinney, Brooklyn Carl, Abby Williams and Kiley Lavelle, plus Sydney Standifer, who started in 2017-18, but missed last year with an ACL injury. In addition, both McKinney and Shelby Henches also had to deal with injuries last year.
Coach Chance Westmoreland said he is impressed with how his players have rebounded for this season.
"I think all three girls are doing well mentally," Westmoreland said. "Our team has a lot more depth this year, so we should be able to give some players additional rest throughout the season."
McKinney, Carl and Lavelle were selected to the All-Tournament team at State and McKinney was named Championship game MVP.
Across town at Liberty Christian School, the Lady Warriors are coming off a Regional Finals appearance in 2018-19. Coach Ken Burroughs said his team is hoping to pick-up right where it left off.
The Lady Warriors return two starters, Aimee and Grace Alverson, plus players to watch including Emma Wolski and Jadyn Fife.
The Alverson sisters were both first team All-District selections last season and Wolski was named to the TAPPS I-6A second team.
While Burroughs did not have many thoughts on what it will take to have another long run in the postseason, said: "Staying healthy, like everyone else, is all I can think of."
Up in Denton, the Guyer girls finished 23-12 overall last season, including a 12-2 mark in District competition leading to the District Championship.
The Lady Wildcats return starters Bella Earle, Jade Thompson, Morgan Helgesen. An additional player to keep an eye on is Evie Goetz.
Coach Aimee Kilgore said Guyer will compete for a playoff spot– and possible district title– again in 2019-20 for a couple of reasons.
"Key returning All-District starters, as well as key reserves, who saw lots of minutes, were major contributors in 2018-2019," Kilgore said. "We are coming off one of Guyer girls' basketball best seasons in school history. We have a hard-working, committed, cohesive group of girls who are hungry to win and have success."
Over in Flower Mound, Head Coach Sherika Nelson is in her 13th year at Flower Mound High School. Following a State Tournament appearance in 2014-15, she has led the Lady Jaguars to three playoff appearances in four years, for a total of five playoff games.
Flower Mound finished 16-16 last season, with a 6-8 mark in District competition, tying for fifth place overall.
Returning starters for the Lady Jags include Makenzie Schott and Kayla Wallace. Players to watch this season include Maddie Cox, Paulina Porter and Sarah Edmondson.
Nelson said she is confident her team will be in the playoff hunt this season, because of several intangibles that make any team a force.
"We're smart, scrappy and unselfish," Nelson said. "We are tough defensively and have the ability to push the ball in transition."
As for the Marcus girls' basketball team, the Lady Marauders finished 7-7 in District last year, claiming the fourth and final playoff spot.
While Marcus only returns one starter from last year's playoff team (Bailey Roden), Coach Monica Pena said MJ Jefferson and Maiyah Watts should both make an impact for the Lady Marauders this season.
Marcus finished 17-17 overall last season.