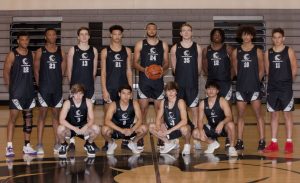 Southern Denton County produces some of the strongest basketball talent in the state. Nowhere was that more on display than in the Regional Finals earlier this year, when one local team got to within one game of a State Tournament appearance.
The Guyer boys' basketball team finished 14-0 in District competition. It then defeated Irving MacArthur, Richardson Pearce, Mansfield Lake Ridge and Odessa Permian to reach the Regional Championship, before coming up four points short to Duncanville–the eventual State Champion.
The Wildcats went 32-5 last season. Returning are players JaKobe Coles, Tyler Mcghie, Amaechi Chukwu, Brayden Bradshaw, Jace Wilson, KyeRon Lindsay and Eli Stowers.
Coles was named to the TABC Boys Basketball All-Region I-6A team and will sign to play college ball at Butler this month.
Coach Grant Long said with three returning starters and an influx of young talent, the sky's the limit for Guyer in 2019-20.
"The tradition of Guyer basketball is to compete for a State Championship every year," said Long. "We have lots of returning experience from a Regional final team, with some talented young additions."
According to MaxPreps.com, Guyer heads into the 2019-20 season ranked second among 6A schools in the state, behind Mansfield Timberview.
Headed south to Argyle, it was a great season for the Argyle boys in 2018-19. They finished 26-10 overall, with a 6-2 mark in District competition and a trip to the playoffs.
Coach Russell Perkins said he does not expect much drop-off from last season with the return of starters Jackson Maupin and Nate Atwood leading the way.
"We have good depth, balance, tradition and high expectations," said Perkins.
Other players to watch include Grey Goodson, Skylar McCurry, Eli Randall, Jacob Dye and Eli Valentino.
Argyle went three rounds in the playoffs last year.
Over at Liberty Christian, the boys team finished last season with a 20-15 overall record, tying for third in District competition.
The Warriors return starters Bradley Land, Ben Folk and Jared Bravanec. Coach Preston Nadolski said his team has the components it needs to build-on the success it enjoyed last year.
"We broke a five-year playoff drought last year and are looking to improve from last year to this year," Nadolski said.  "We are unselfish and have a better understanding this year of what it takes to compete against the better teams in the area."
Bravanec was an All-District selection in 2018-19.
The Flower Mound boys' basketball team finished 20-10 overall last season. It just missed the playoffs, going 7-7 in District competition and finishing in fifth place overall.
Returning starters for the Jags include Jeff Mills and Jack Richter. Coach Eric Littleton said his team will rival for a postseason berth in 2019-20.
"We're smart, tough and unselfish," Littleton said.
Mills committed to the Air Force Academy and Gavin Green committed to Merchant Marine Academy for the Jaguars. Littleton said one of the things that makes his program interesting is that many players do go on to serve.
"We will have six former players serving in active military next year," Littleton said.
Those players include: Johnny Scully (West Point/Army); Ryan Reibly (Army National Guard);
Jacob Langley (Marines); Connor Green (Navy Seals); Mills (Air Force); and, Green (Merchant Marines).
Across town at Marcus, the Marauders are looking to rebound from a 12-20 season, that saw the team finish sixth in District with a 6-8 mark in conference play.
Players to watch this season include Nick Donnelly (second team All-District), Ben Joelson (first team All-District 7-5A), Cale Martens, Ryan Vaughan and Christian Weddington.
Donnelly and Josh Condon are both returning starters from last season.
Coach Shane Rogers said what Marcus lacks in starting experience, it makes up for in other ways.
"Even though we are not returning a lot of starters, we are returning everyone else– and adding some great height that has been lacking in the past couple of years," Rogers said. "We should have a very talented group of guys this year."