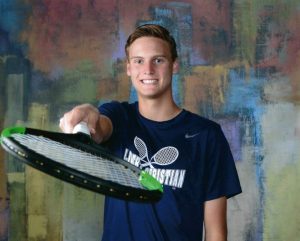 Trey Wells is an accomplished tennis player. He has won numerous tournament championships and is a USTA 18u Super-Championship Singles player.
But that is only one part of who he truly is.
The Liberty Christian senior is a tennis team captain, but is also a member of the LCS National Honor Society and IMPACT, an organization that mentors eighth-grade students.
"I enjoy being involved, because it gives me a sense of accomplishment," Wells said. "It allows me to stay active and take my mind off all of my schoolwork. Also, being involved has helped me connect better with others in my class and has ultimately helped me grow in the community with those around me."
Wells, 18, also serves as a member of Adopt-A-Senior (supporting a fourth-grade class) and is the Be Lifted Assistant Ministry Director. He said LCS has helped foster his ability to connect with others.
"Because the size of the classes is relativity small, it allows the students to grow in community with one another in a way that is not possible at other schools," Wells said. "Also, the amazing academics and teachers make me enjoy Liberty even more. The teachers are truly personal with every student and strive to build relationships with them. In all, Liberty has an amazing community built around it that makes it more enjoyable than anywhere else."
The Flower Mound teen currently takes five AP classes and carries a 4.21 grade point average. He said while balancing his curriculum and extracurricular activities can be challenging, the most difficult thing about being a young person is not being taken seriously.
"People will tend to disregard you because you might not have as much experience as them or you might not be as developed as them," Wells said. "However, I have found that young people tend to have great ideas or philosophies that our culture could benefit from. Often times, it is difficult to share because society doesn't tend to regard your idea as having much influence."
Wells scored a 33 on his ACT with a perfect score on STEM (36). He is undecided on college, but does plan to major in engineering.
Wells' Favorites 
Favorites Subject: Physics
Person who most inspires you: My oldest brother
Favorite Food: Steak
Favorite Movie: 21
Favorite TV Show: The Office
Book Currently Reading: Pilgrim's Progress
Favorite Musical Group or Performer: Alec Benjamin
Nominate your favorite high school student for this monthly feature brought to you by Texas Health Presbyterian Hospital Flower Mound by emailing [email protected].