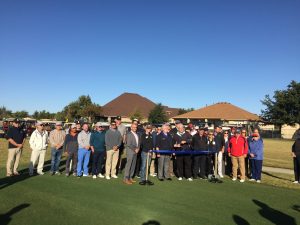 By John Burkholder, Director of Communications, 9 Men's Golf Association 
The much anticipated Wildhorse Golf Club at Robson Ranch's additional 9 holes was celebrated with a blue-ribbon cutting dedication on Monday, October 21. On a sunny, warm and golf-perfect day, the event was attended by local civic officials, retired professional athletes, Robson Ranch big shots and anxious-to-get-playing Robson Ranch residents.
Several, considerate and thankfully short, speeches were delivered by the great folks who brought the new nine holes vision to reality before they, the invited guests and homeowners hit the links. And the new nine holes provided reason to celebrate! Six tee boxes per hole afford a challenge for golfers of all abilities, with yardage options from 1,681 to 3,430 total yards. Combined with Wildhorse's current two nine-hole courses, South and West, golfers now have three championship 18-hole golf combinations to play.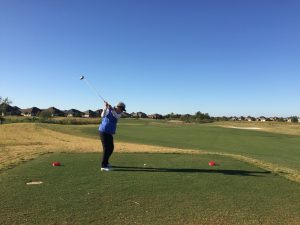 The new North course holes are cut into the highest section of Robson Ranch and offer panoramic views of Denton and the surrounding, still-to-be-developed home sites. Concrete cart paths meander through beautifully sodded Bermuda grass fairway boundaries, with two creek crossing bridges caringly situated to keep playing efficiently moving as well as provide picturesque scenery. Plus, holes three and nine have the added challenge of being bordered by water that is likely to become poorly hit ball magnets. So, be especially careful with club selection and hit direction. Although most fairways offer wide landing areas, holes three and nine demand your special attention.
The new greens are large, with skill testing rolling design require players to be especially careful with their approach shots' landing locations. On top of that, the fact that they're new makes reading putt speeds a bit unpredictable. Taken as a whole, Wildhorse Golf Course's new North nine holes is destined to become a very popular destination for Robson Ranch residents as well as close-by homeowners in Harvest and other new community developments.