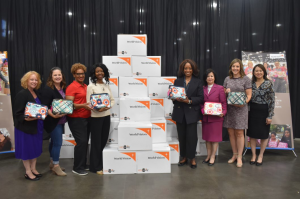 In honor of National Domestic Violence Awareness Month, Thirty-One Gifts — a direct-selling organization offering stylish purses, accessories and home décor — hosted the Texas Council on Family Violence Tuesday to share findings from the Honoring Texas Victims report on domestic violence fatalities in Texas and to discuss Thirty-One Gifts' dedication to helping victims rebuild their lives.
The event, hosted at Thirty-One Gifts' debut Texas facility in Flower Mound, elevated awareness by honoring Texas women and men killed by domestic violence and sharing trends from the 2018 Honoring Texas Victims report:
A total of 211 people lost their lives to family violence in Texas, a record high in the last decade. Women accounted for 174 of those cases.
For the first time since 2015, the number of domestic violence deaths in Texas increased last year instead of decreased.
Of the 64 Texas counties that experienced a fatality, Dallas County had the third most with 16 deaths, twice as many as in 2017. Tarrant County had the fourth most fatalities with seven deaths, and Denton County suffered three deaths.
Dallas County had five men killed by female intimate partners.
59% of perpetrators used a firearm to murder their female partner.
67% of female victims were killed at home.
The youngest victim killed in the report was 16 and the oldest was 85.
290 children lost a parent in these acts of family violence.
The event highlighted Thirty-One Gifts' mission to empower women through its charitable program, Thirty-One Gives, which surprised TCFV with a $10,000 donation Tuesday.
Thirty-One Gives also helped establish and continues to help fund the National Network to End Domestic Violence's Independence Project—a credit building program that lends microloans to survivors of domestic abuse to help rebuild their credit and regain financial freedom. Customers can support the Independence Project this fall by donating to the GIVES ROUND UP! Initiative when purchasing products.
"We have been committed to supporting domestic violence survivors as a key focus area of our giving since Thirty-One Gives was established in 2012," said Wendy Bradshaw, executive director of Thirty-One Gives. "Today, we proud to partner with TCFV to support women across Texas, now home to our new distribution center. We look forward to continued conversations on how we can all take meaningful action and provide hope to victims and survivors of domestic violence."
Local domestic violence service providers including Denton County Friends of the Family attended the event and left with World Vision Hope Kits filled with feminine hygiene products for their clients. The kits were assembled by Thirty-One Senior Consultants during their annual Conference in July. To date, Thirty-One Gifts has distributed more than 22,000 World Vision Hope Kits to support survivors.
Senator Jane Nelson also attended the event and was awarded the Legislative Champion Award from TCFV and the National Network to End Domestic Violence for her fierce and dedicated work in domestic violence prevention and policy.
"Sharing the numbers from TCFV's 2018 Honoring Texas Victims is a responsibility we do not take lightly. We believe every fatality is knowable, predictable and preventable," said Gloria Terry, TCFV CEO. "While the increase in family violence deaths is devastating, hope for the future happens when we see DFW communities joining together to stop this violence. Local service providers are providing life-saving services every day, businesses like Thirty-One Gifts are leading life-restoring projects for survivors, and elected officials are standing firm to pass legislation to keep Texas families safer. If we continue these collaborations and implement true solutions, domestic violence has nowhere to hide."
More information about the 2018 Honoring Texas Victims report and ways to spread awareness during Domestic Violence Awareness Month can be found at tcfv.org.