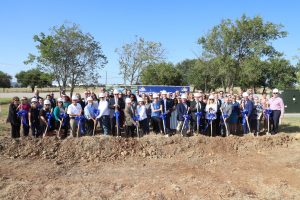 The Northwest Metroport Chamber of Commerce broke ground Thursday morning for its new 8,400-square-foot office building in Roanoke.
The new building will be located at 381 West Byron Nelson Blvd, according to a news release from the chamber. Designed as a member-focused building, the new location will offer co-working space, lease space and conference room availability for the chamber's membership in addition to offices for the chamber staff. Building services are available exclusively to chamber membership.
The building is expected to open in the spring. Lease space is available.
The Northwest Metroport Chamber of Commerce promotes opportunity and growth for the business community in the area around Argyle, Haslet, Justin, Northlake, Roanoke, Trophy Club and Westlake.
The developer on the project is The Integrity Group with RGA Architects as the architect and G&A | McAdams Co. as the engineer. Initial project partners for the Chamber's "Beyond the Brick" capital campaign for the building include: FastSigns Alliance, G & A | McAdams Co., Integrity Group, Integrity Land Title, iOffice, JA Design Solutions, Kelly Hart & Hallman LLP, Pinnacle Bank and RGA Architects. Click here for more information.