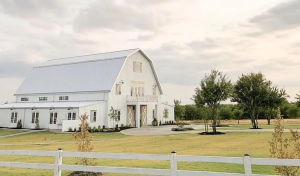 A gala dinner will be held next week to benefit Bochy's Place, a restoration home for victims of human trafficking.
There are more than 300,000 victims of sex trafficking, including 79,000 children, according to a news release. Bochy's Place provides "a loving family environment where residents can work towards their healing emotionally, spiritually, psychologically and physically." Through a trauma informed lens, the program offers various life skills classes, licensed counseling, inner healing sessions, legal advocacy and financial planning mentorship, and partners with the community to provide exercise, self-defense and nutrition classes, community service and educational opportunities, job placement, dental, chiropractic and medical care.
Bochy's Place is hosting its third annual Night in White Benefit Gala dinner on Sept. 26 at The Nest at Ruth Farms, near Ponder. The theme is "Home Sweet Home" and will focus on the trafficking problem in North Texas and show the short film Grace, based on the true story of Bochy's Place survivors. Special guest Texas Attorney General Ken Paxton will share his heart for the eradication of human trafficking.
For more information and to purchase tickets, go to www.bochysplace.com/events.