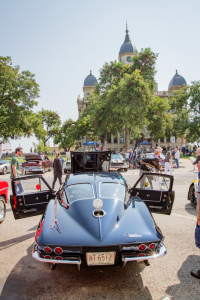 Denton Main Street Association will celebrate the 20th year of its most popular festival on Saturday, the Denton Arts & Autos Extravaganza.
The free event is the organization's annual classic, hot rod and custom cars, trucks and motorcycles show that takes place around the Denton County Courthouse-on-the-Square, 110 West Hickory St. There will be "plenty to see and do for the auto enthusiast, artist, shopper or anyone interested in a day of fun in downtown with live music and good eats throughout the festival," said a DMSA news release. The popular Chalk Fest competition on West Oak Street is back and open for all ages, and there will be kids' craft and game activities in the courthouse and on the lawn. Festival hours are 9 a.m. to 3 p.m.
This festival expects to showcase more than 250 cars, trucks and motorcycles whose owners are competing for numerous awards, including the coveted Best of Show Award, first place in the original or modified category for each class, or a participant's choice award. The specialty awards are also a favorite of the participants as they compete to win trophies that are old auto parts artistically redesigned by local artists, the news release said. Best of Show winners in the car, truck and motorcycle classes will win cash prizes.
"This year we have a custom-made trophy design that will be a nice way to commemorate the 20th anniversary of this event and will be given to the 1st place winners in each class," said John Cartwright, president of DMSA.
Festival attendees can also get in on the voting by choosing their favorite vehicles for whimsical award categories, such as Best "Family Truckster" and Best "Diamond in the Rough," among others. The public can weigh-in on the whimsical award winners by using an online ballot that will be available at DentonMainStreet.org until noon Saturday.
The Chalk Art Fest and Competition attracts talented artists of all ages sketching drawings on the West Oak Street sidewalks. Winners in three age categories can walk away with some cash prizes, and the top winner of the "18 years and up" competition gets $200 cash. Pre-registration ends Sept. 10 and day-of chalk spaces may have limited availability.
Festival-goers can shop and stroll through arts and crafts booths on the courthouse lawn, as well as specialty boutiques, vintage stores, art galleries and studios in downtown Denton. Attendees can bid on some nice items ranging from downtown goods and restaurant certificates to local entertainment packages at the silent auction inside the courthouse between 9 a.m. and 2 p.m. The silent auction proceeds will benefit the Denton Main Street Foundation.
Live music will start at 9 a.m. with strolling musicians Link Chalon and Dave White, and the music will continue with several other artists through 2:30 p.m.