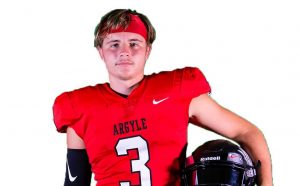 Argyle Senior Quarterback Bo Hogeboom has been named the Class 4A Built Ford Tough Texas High School Football Player of the Week for his performance last week against Stephenville High School.
Hogeboom threw for 358 yards, five touchdowns — including one that went for 68 yards — and one interception in the Eagles' 42-14 win at Stephenville.
Ford Motor Company's Player of the Week program is again honoring six outstanding student-athletes each week of the 2018 regular season, recognizing one player in each of the state's six athletic classifications, according to a news release. The winners are chosen for athletic achievements on the field, as well as for outstanding scholarship and community involvement.
This is the second straight year that an Argyle player received this award for Week 1. Last season, Linebacker Chase Petter was named the Class 4A Player of the Week.