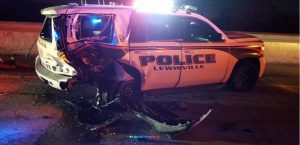 No one was hurt when a suspected drunken driver crashed into a Lewisville police officer's vehicle earlier this month, but the driver was arrested on multiple charges.
Around 9:15 p.m. on Aug. 9, an officer arrived at the scene of a car crash in the 1100 block of Sam Rayburn Tollway, according to Lewisville police. The officer got out to check on the people involved in the wreck in the inside lane, and while the officer was not in the squad vehicle, a 24-year-old woman crashed her vehicle into the police SUV.
Police arrested the suspect, Elisabeth Bourassa, on suspicion of driving while intoxicated, possession of a controlled substance and unlawful carry of a weapon.
"In an effort to prevent further crashes like this one, our Traffic and Patrol divisions will once again take part in a statewide campaign against drunk/impaired driving," Lewisville police said on social media. "Through September 2, DWI Enforcement Officers will be on the street during the late night and early morning hours to locate intoxicated drivers and minors Driving Under the Influence. If you spot a suspected impaired driver, call 911 and give the description and location of the driver to police. If you plan to go out and drink, please have a designated driver or call a taxi or rideshare service."