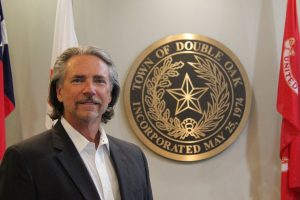 Von Beougher was selected and sworn in on Monday night by Double Oak Town Council to fill the vacant council seat left when council member Ginger Brittain resigned last month.
"The council had outstanding applicants to consider for this appointment. The town is pleased to welcome Von Beougher as a member of the Double Oak town council," said Mayor Mike Donnelly.
Beougher, a civil engineer and Double Oak Board of Adjustments member, was selected from a group of three applicants, including Tim Bologna, a Planning & Zoning Commission alternate member, and Martha Holman, a Planning & Zoning commissioner. Joe Rodriguez, a former Board of Adjustments member, withdrew his application on Monday before the meeting.
Beougher will serve until the next municipal election in May 2020.