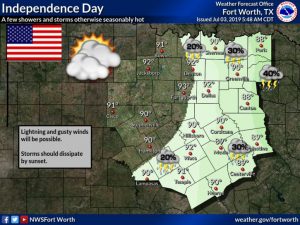 The weather forecast for Independence Day in Denton County calls for hot temperatures and isolated storms in the afternoon and early evening, but the threat of rain should be gone in time for fireworks.
The National Weather Service forecast calls for about a 20% chance of isolated showers and storms, but any storms are expected to dissipate by 8 or 9 p.m., said NWS Meteorologist Matt Stalley. A chance of lightning and gusty winds may pose a threat to people attending outdoor events, and anyone with outdoor plans is encouraged to monitor the forecast during the day Thursday.
The high temperature is expected to reach 92 degrees, and Stalley said it will be important for people spending time outside to stay hydrated.
"Don't underestimate the heat," Stalley said.
The outlook for Friday through Monday calls for high temperatures in the mid-90s in Dallas/Fort Worth. A 20% chance of storms is expected on Saturday.