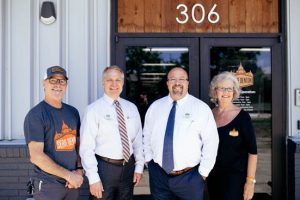 Huffines Subaru has committed to donate $125,000 to Serve Denton's capital campaign and name the Classroom at the Serve Denton Center, "The Huffines Subaru Classroom."
Huffines Subaru, located along I-35E in Corinth, has partnered with Serve Denton over the past three years for its annual "Share the Love" campaign, donating $250-$300 to Serve Denton for every car sold or leased during the month of December, according to a news release. Now Huffines has committed to a three-year partnership with Serve Denton that will result in the naming of the classroom.
The Huffines Subaru Classroom is the most used shared space in the Serve Denton Center. It hosts countless meetings for Serve Denton's 15 partners, numerous coalition meetings, classes for parents, therapy for children with developmental delays, nonprofit board meetings and volunteer trainings, Serve Denton partner programs and more.
"Over several years, Huffines Subaru has become familiar with Serve Denton, gotten involved in volunteer projects, and attended numerous events," said Robert Goodwin, general manager of Huffines Subaru. "We feel strongly that Serve Denton is a great organization to partner with that allows us to have a very positive impact on our community. With the continued growth that our community and our business has experienced, we felt like now was a good time to make our commitment more permanent by sponsoring the Classroom."
Huffines' gift will go toward Serve Denton's Capital Campaign that will help fund development of all phases of the Serve Denton Center. These phases include a state-of-the-art health center and pharmacy for Health Services of North Texas, a center for Children's Advocacy Center for Denton County that will allow their organization to co-locate with law enforcement and be located steps away from a health center, and a 10,500-square-foot custom-built food center for Denton Community Food Center. Serve Denton expects its partners to serve over 16,000 people in Denton County in its first year of full occupancy.