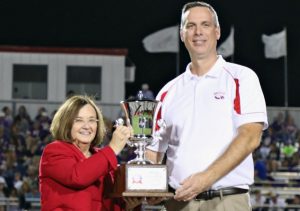 Argyle High School won another UIL Lone Star Cup in 4A last week, its eighth consecutive Cup.
The UIL Lone Star Cup recognizes six high schools, one in each of the six UIL conferences, based on their overall team achievement in a variety of sanctioned academic, athletic and music championships. All UIL member high schools in good standing are included for contention for the UIL Lone Star Cup. Each winning school receives $1,000. Trophy presentations will take place in the fall at events chosen by the winning schools.
Argyle earned 124 points, 14 points more than 4A's second place school, Canyon, and tied for the most of all schools in all classifications. The Eagles won their fifth straight girls basketball state championship and their second straight boys baseball state championship this school year.
This is Argyle's eighth straight Lone Star Cup and 10th total, which is second-most all-time.
In 6A, Flower Mound High School earned third place.