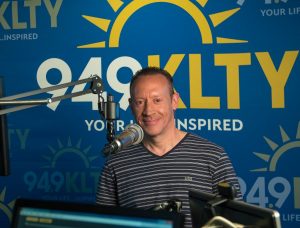 For the last 17 years, Tony Salvatori of Lantana has occupied two desks at Dallas radio station 94.9 KLTY: a cubicle; and, a fully-operational Starship Enterprise cockpit console, with multiple flat screen computer monitors.
His nickname on the airwaves is "Tony Lopez" or "T-Lo" for short, and he hosts the daily Midday Show at Salem Communications studios in Irving.
"I recently switched from evening to daytime broadcasting so I could spend more time with my family," said Lopez.
Being the youngest of seven children himself, Lopez is the happy dad of a big family.  He and his wife, Jennifer, a successful local cosmetologist, have six children between the ages of three and 21.  Her other claim to fame is she has been a surrogate mom three times, and still coordinates such matches for a California agency.
"To know her is to love her," Lopez said. "Baby number seven is on the way. My cup runneth over. Jen is due in the fall and we are over the moon. Mabel (the youngest) can't wait to meet her new baby brother or sister!"
His dad was the biggest influence in his life.
"He was always full of surprises and I had the greatest childhood anyone could experience," he said. "My mom lived for her children. Jen is the same way.  History repeats itself."
Lopez grew up in suburban Chicago on– as he put it– "an audio diet served up by disc jockeys who were the kings of music.  Those guys were magicians.  By the time I was twelve I knew a radio career was for me."
This childhood desire never faded.
"I emulated lots of people while I figured out who I was," he said.  "I think my personal hero was Roger Kamka."
Kamka taught Arts and Humanities at Lopez's high school in Elmhurst, Illinois, in 1985-86.
"He taught me how to truly listen to a jazz piece and I was better for having learned," said Lopez. "Roger was memorable for pulling into the school parking lot in his 1946 Volvo.  The driver side door didn't work so he always slid out the passenger door.  He wore bowling shoes and his hair looked like Albert Einstein's."
After high school graduation in 1986, Lopez moved– with his retiring parents– to West Palm Beach, Florida.  That's where he spent a year at the Connecticut School of Broadcasting's Florida Campus.  His first post-graduation job offer was as a cruise ship DJ, but he wanted to be in a broadcast setting; so, he returned to the Chicago area to sell cars.
"Since childhood I expected a broadcasting door would just open when I was ready," confided Lopez.  "I needed to make a living in the absence of a gig, so I sold Pontiacs and Hondas for about five years."
As it turns out, his favorite car is something more glamorous, the 1968 Jaguar XK-E.
"It's just a show stopper," said Lopez of the classic style selected by the Smithsonian Museum for its design.  "Remember the movie Silver Streak?  Gene Wilder drove a 1967 Jag I'd love to snag one day."
At age 23, Lopez landed a low-paying radio job broadcasting jazz and big band music.
"It was a 300-watt AM station," he said.  "The facility had no water or heat.  You have to be motivated to work those circumstances up by the Great Lakes."
As luck would have it, he also landed work at two additional equally small stations and commuted to do all three shows.
"I was happy," he said, "It paid my bills."
Five winters, "and too many snowstorms" later, he migrated to an oldies radio show in Austin, Texas.  "I hate to shovel snow."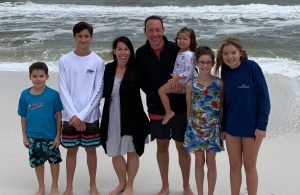 Then, in 1998 he moved to the Dallas radio market; and, in 2002, joined Salem Communications in Irving. He's been happily broadcasting from there for the past 17 years.
It's obvious he loves radio and family life.  Is there anything else?  Oh yes.
"I am passionate about golf, its roots, rhythm, standards and etiquette," said Lopez.  "I had a great front-nine once at Lantana from the pro tees. Unfortunately, I followed it with a 60 for a 94."
These days he's in the low 90s:  "I'm not a threat and won't make too much of a fool of myself."
How many people play mental golf in order to fall asleep at night?
"I think about going to the first tee, hitting a shot, then playing the next one from the fairway, then putting," he said.  "By the second or third hole, I'm usually out."
His worst game?
"When I was a kid I threw a club," he said.  "My dad told me to simmer-down, because I wasn't good enough for a tantrum."
During the 16 years he broadcast during the afternoon drive, he played golf at Lantana in the mornings.  His game improved.
"As the family grew, golf moved to the back burner," Lopez said.  "The club in Lantana is such a great one and valuable.  I'll be back eventually."
Salem Media Group has radio stations all over the nation, provides internet service, streaming and operates large magazine and book publishing companies. Salem Communications has a transmitting tower in the DFW suburb of Cedar Hill.
"We have a broadcast radius of about 50-miles from the tower," Lopez said.
The market objective is to sell Christian, family-friendly and conservative values content.  That accurately describes KLTY and T-Lo's goals.
"When people listen to the Midday show, I hope they will smile, listen and be encouraged and inspired," he said.
The studio is a glass-walled– but surprisingly insulated– room overlooking the universe … the equally glass-walled reception lobby in the Salem building on North Beltline Road off Highway 114.
Captain T-Lo sits or stands encircled by what could pass for a wide, curving kitchen bar that hosts an eye-popping complex of blinking equipment, computer monitors and a complicated-looking phone used by the broadcaster.  Lined up along the workstation, opposite the broadcaster are half-a-dozen auxiliary microphones in front of tall chairs for guests.
On the broadcaster's right sits new-looking "old" equipment, like CD players.
"DJ's don't spin discs anymore," explained Lopez. "My music playlist is from MP3 audio files."
He does live phone-in contests, endorsement commercials, taking listener calls and, of course, announces weather and traffic updates.  A large-screen television sits where he can see it behind the guest mics and seats.
"I use it to track breaking news and sports," he said.
There is no question radio broadcasting has changed from its humble beginning in 1901, when Italian physicist Marconi first transmitted audible Morse Code dots and dashes across the Atlantic Ocean.
"The joy of radio is its 'presto' nature," Lopez said.  "Flip a switch, turn a tuner, or tap a screen and you have instant companionship and it's free. I love to tell people, if there's a song they don't like, I'll give them their money back!"
So, what keeps terrestrial DJs busy while computer automation helps tend the shop? Around the hallway corner from the studio is a sound stage.
"I supplement my on-air work by updating my blog on Facebook and Twitter," Lopez said. "I work with advertising and contest customers.  I record commercials, do interviews and participate in video productions.  Every day is full, on-and-off the air."
T-Lo's Facebook page prominently displays short "Good News Stories" each day.
Believe it or not, corporations actually do good deeds just to do good deeds.  They give away great prizes, including cash, just for the sheer joy of making someone's day.  KLTY helps get the job done.
"There's lots of good news out there," Lopez said. He shares it.
Check out KLTY "Your Life Inspired" at 94.9 FM.  Lopez is right in the middle of the day, from 10 a.m. to 3 p.m.  The request line is open 24/7 at 214-787-1949.  The station website is KLTY.com.
"If I could give the world a piece of advice– I'd say, 'life will present you with some seriously rocky roads, but you can never go wrong practicing The Golden Rule,'" Lopez said.