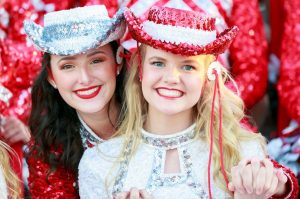 By Elizabeth Brannon
Dance is a performing art form consisting of purposefully selected sequences of human movement.
Dance education is an essential ingredient to learning about physical expression through movement, rhythm, storytelling, cultures throughout history and humanity. It gives students a physical medium to understand themselves and the world they inhabit better and a way to communicate ideas through creative decisions using a movement vocabulary, technique and observation.
The dance teachers in LISD are dedicated to providing the highest quality experiences for their students and continue to develop their own skills and techniques to improve their students' achievement and success.  They care deeply about their programs, their students, their art and the district.  What follows is a look at the five high school programs in LISD.
Marcus HS
The Marquettes represent Marcus High School and their community through memorable performances, acts of service and high moral character.
They have been recognized as a top six teams in the state by Crowd Pleasers Dance. They regularly create dynamic sold-out Spring Shows, produce a Biennial Christmas Show and perform at every Marcus Football halftime with the incredible Marcus Band.
Special performances have included halftime at Super Bowl 45 with the Black Eyed Peas, marching in the Macy's Thanksgiving Day Parade and as featured performers for the Texas Educational Theater Association's State Convention.  Additionally, the Marcus High School Dance Department was recognized this year by TDEA's Dance Education Assessment of Learning for "exemplary teaching" in practices aligned with the State Texas Essential Knowledge and Skills (TEKS) to promote student achievement and success in the Art of Dance Education.
Flower Mound HS
 The Flower Mound High School Rosettes express themselves creatively through dance and school spirit, while building character in kindness, integrity, respect and responsibility.
The team of 70+ girls performs at all varsity football games, pep rallies and at various regional competitions. In their last competition year (2018), they were named the Super Team Grand Champions at Crowd Pleasers Dance.
They have performed at Disney Magic Music Days, a Dallas Mavericks game and marched in the Macy's Thanksgiving Day parade. In addition to all these, the Rosettes produce their annual spring show that not only includes exemplary performances from the Rosettes, but includes other groups within the school, like drumline, choir and theater.
The Flower Mound High School dance department consistently offers Dance I-IV classes that provide students an opportunity to learn and grow in various genres of dance including jazz, ballet, hip hop, and folk dance. The students in the dance department participate in the Rosette Spring Show, as well as produce their own choreographic works at the end of each semester.
Lewisville HS 
The Lewisville dance department is comprised of Dance 1 and 2 classes that consistently reach capacity at 30+ students, as well as a Junior Varsity team of 23 dancers and a Varsity team of 40 dancers.
Dance for Athletes is an elective for student athletes to earn their Fine Arts credit, while enhancing their foot work, flexibility and knowledge of the body. Each semester the drill teams hold a show in which the dance classes and local dance groups are invited to perform.
In the spring the drill teams participate in regional competitions where they regularly place within the top three for each routine. The mission statement for the Lewisville Dance Department is as follows: The Lewisville High School Dance Department seeks to empower and educate responsible young adults. They use dance as a creative outlet, while employing a growth mindset to produce independent and productive society members.
Hebron HS
Hebron's Dance Department offers Dance 1,2,3 and 4 classes.  It also offers Pre-Drill Prep class for any student wanting to learn the basics for drill team tryouts.
This year, there were approximately 175 dance students in the dance department, plus had 57 girls in its drill team program.
The students learn many genres of dance– ballet, hip hop, jazz, choreography, tap, musical theatre, modern and contemporary.  Students learn the dance style, as well as the vocabulary and history associated with each style.
The upper-level students in Dance 3 and 4 participate in the annual drill team show, "Highlights."  Ninety-five-percent of the students have never attended studio or outside dance classes.  They have only been taught by the Hebron Directors at Hebron (Mrs. Bowling and Mrs. Hobbs).
Hebron's drill team dances all forms of dance in the annual spring show.  They are well-rounded with Kick, contemporary, hip hop, ballet in pointe shoes, tap, musical theatre and jazz.  They are traditional drill team girls in the fall with its Friday night football field routines and then switch gears in the spring to perform all types of dance.
The Colony HS
The Colony High School Topcats are ambassadors for their school and community leading by example of citizenship and moral character. They continuously deliver exciting and memorable performances on the football field, as well as in their dynamic Spring Show productions.
The Topcats have grown tremendously in the past two years and recently received high rankings awards at a Nationals Competition as well as A Superior Judges award. These members work inside and outside of drill team to set an example for their peers, as well as all members of their community.
In addition, The Colony High School offers Dance 1 and Dance 2-4 for students to immerse themselves in the culture of dance. They learn styles of dance ranging from ballet to Musical Theater to World Dance. These dance students also experience the excitement of performing in the Drill Team's annual Spring Show.
Many students from The Colony High School come into Dance Classes or try-out for Drill Team with little or no dance experience. They spend their semester or year working hard and pushing themselves with the help of their Director to achieve technique, new skills, flexibility and a love for dance. Each year in a student's end-of-year evaluations there are constantly comments such as: "Dance Class not only taught me about dance and the history of dance but how to work hard, be persistent, and be patient." Students in the Colony High School dance department are learning the value of dance and how it can help shape their lives.
Missey Head is the Assistant Fine Arts Director for LISD.  She has 35 years as an educator, with specialization in dance, theater and visual arts and a degree in Theater.  Currently, Head supports and encourages the teachers, ensuring the students have what they need to excel.
The LISD dance program excels due to rigorous training with technique and the dedication of the dance teachers and is recognized as being a top program across the USA.
Elizabeth Brannon serves on the Flower Mound Cultural Arts Commission.