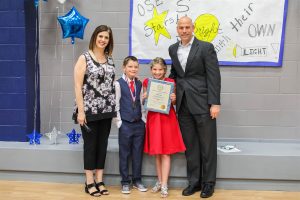 An elementary school student from Flower Mound has been named a Student Hero by the State Board of Education for her selfless giving back to others.
During a campus-wide special assembly last month, Old Settlers Elementary student Meah Jones was presented the Texas State Board of Education Student Hero Award, according to a news release from Lewisville ISD. What started as a request for $20,000 from mom and dad to "give away," has turned into something so much bigger. In 2017, Buddy and Boo: Kids Impacting Kids Through Kindness was established when Meah and her brother Colt brainstormed a way to raise money to help others.
They decided to sell cookies from a secret family recipe which required the dough to be made by hand. Meah and Colt made every batch of homemade, handmade dough for all 65 orders they received that first year. Once they collected the money from the cookie orders, they decided to gift a class of second-grade students at another North Texas school with the following items: a book, pair of socks and Pop-Out Pet.
"Meah has displayed characteristics that would not even be on the radar of most 10-year old kids," said Old Settlers Principal Dr. Kelly Hayunga. "Her spirit of giving, as well as her brother's, is something to be commended. The time she has dedicated each Christmas season to sell, make and deliver items to kids who are not as fortunate speaks volumes as to what she believes really matters. Meah has truly been a heroine to the second-grade students at Sigler Elementary for the last two years and has no plans of slowing down."
Meah was grateful to receive the award in front of her peers and most of her family.
"Receiving this award would not be possible without the help of my brother Colt and our mom and dad," Meah said. "Today, was a very special day and we look forward to growing Buddy and Boo."
Meah and her family are currently working on turning Buddy and Boo into a 501C-3 non-profit organization, according to LISD.