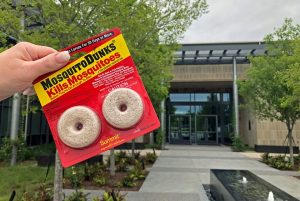 The town of Flower Mound is again offering free mosquito larvicide — or "dunks" — to residents to help eliminate potential breeding grounds.
Female mosquitoes need very little standing water to lay anywhere from 100 to 250 eggs, which hatch in one to two weeks.
Common mosquito breeding grounds include: bird baths, gutters, planter basins, water troughs, pet bowls, old tires, trash can lids and rainwater collection containers. These areas should be checked weekly and all standing water should be eliminated, according to the town of Flower Mound.
For larger bodies of water like pools, ponds and drainage ditches, the town is providing free mosquito dunks to Flower Mound residents (one package per household).
With proof of residency, residents can stop by Town Hall during regular business hours to pick them up.
This environmentally-safe larvicide specifically targets and eliminates mosquito larvae when placed in standing water for up to 45 days and can also be purchased at any home improvement store throughout the year.
For more information, contact Environmental Services at 972-874-6340.