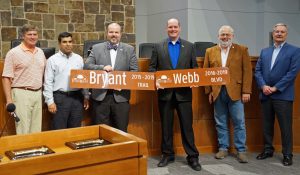 The Flower Mound Town Council recognized its outgoing members at its meeting Tuesday night.
During the meeting, Mayor Dixon presented outgoing members Jason Webb and Kevin Bryant with honorary street signs and keys to the town in honor of their service, according to the town of Flower Mound. Following the presentation, new Council members Jim Pierson (Place 1) and Ben Bumgarner (Place 3) were officially sworn in.
In their first act of business, the new Council named Councilman Sandeep Sharma as Mayor Pro Tem and Councilman Claudio Forest as Deputy Mayor Pro Tem. The new Council will conduct its first regular meeting on May 20, according to the town.