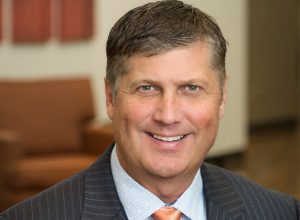 May is here, which means Election Day is quickly approaching in Flower Mound! If you missed early voting, polls are open from 7 a.m. to 7 p.m. on Election Day (Saturday, May 4) so I encourage you to cast your ballot at your designated precinct location. Just a reminder, Town Council Places 1 and 3 are on the ballot as well as four proposed Charter amendments. For more information about polling locations and hours, Town Council candidates, and the proposed Charter amendments, visit www.flower-mound.com/elections.
We have some new business updates. In November, the Town announced Thirty-One Gifts would be relocating its national distribution center to Flower Mound. I'm happy to report, the direct-sales company started shipping its first boxes of its totes and accessories line the last week of April and has a goal to fully shift their distribution efforts to the Flower Mound location by the end of July.
At a recent event, Thirty-One officials said they are loving being a part of the Flower Mound community. One of the reasons they chose Flower Mound was its proximity to the airport, of course, and how you really don't have to leave Flower Mound to get everything you need. The area's quality workforce, lower transportation costs, and its proximity to the company's future southern expansion efforts also made Flower Mound the perfect location. Thirty-One Gifts is situated right across from Heritage Park, 600 Spinks Road, which they shared was a great bonus so they could hold events there, or use it during employee breaks.
The 651,000 square-foot facility provides them the capacity to double their sales, something they did not have the capacity for at their Columbus, Ohio location. The Town will collect sales tax on any Thirty-One Gifts purchase sourced in Texas, which accounts for approximately 5 to 10 percent of the company's sales. The Town estimates this to translate into $200,000 in new tax revenue annually.
Over the next several weeks, Thirty-One will be hiring the majority of their 650-member work force (https://jobs-us.technomedia.com/thirtyonegifts/). When complete, they will be the second-largest private employer in Flower Mound behind Texas Health Presbyterian Hospital.
In other business news, Flower Mound also has some new restaurants and a retailer on the way. BurgerIM recently opened in the Lakeside DFW development, and offers gourmet burgers with 10 different choices of meats (there's even a plant-based option). Fiori Italian Restaurant and Bar, which will be family-owned and operated, is also on the way and will be located in the Kroger shopping center at 1221 Flower Mound Road, Suite 100 (southwest corner of FM 3040 and Gerault Road). In addition, Urban Craft Co., a do-it-yourself workshop, will open its doors at 2311 Cross Timbers Rd. They will offer hands-on classes to create custom signs, gifts, glass etching, and much more. To check the list of all the new businesses that have recently opened in Flower Mound, visit www.flower-mound.com/newbusinesses.
If you're interested in looking at the projects planned or proposed for Flower Mound, don't forget about the Town's new interactive development map, located at www.flower-mound.com/developmentmap. There, you can use the interactive features to see projects that are approved, under review, under construction, and completed for each location. Town staff updates the map as new projects are added or a project's status has changed.
I hope everyone is taking advantage of the nice spring weather to enjoy our many parks and trails. The Town has many spring events planned as well, including our popular May Concert Series, which will be held at Heritage Park every Friday this month (www.flower-mound.com/concerts).
As always, please feel free to reach out to me anytime at [email protected].