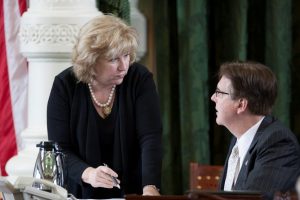 The Senate Finance Committee approved Wednesday two bills sponsored by Texas State Senator Jane Nelson, R-Flower Mound, allowing Texas to collect sales tax from remote sellers in accordance with the recent South Dakota v. Wayfair decision from the U.S. Supreme Court.
"This legislation paves the way for Texas to fairly collect online sales tax within the parameters outlined by the Supreme Court," Nelson said in a prepared statement. "These bills ensure that no undue burdens are placed on remote sellers."
HB 2153 and HB 1525, companions to Senator Nelson's SB 70 and SB 890 respectively, passed the Senate Finance Committee unanimously, according to a news release from Nelson's office.
Because Texas has multiple local taxing jurisdictions with disparate local tax rates, HB 2153 allows for the establishment of a single local use tax to avoid placing an undue burden on remote sellers. HB 2153 will generate $300M over the biennium, and that revenue is assumed in the Comptroller's Biennial Revenue Estimate (BRE).
HB 1525 allows marketplace vendors to collect sales tax from third-party remote sellers. HB 1525 will generate an additional $550M, which is not assumed in the BRE.
Both bills now go before the full Senate for consideration.
Nelson represents District 12, including portions of Tarrant and Denton Counties. She is Chairman of the Senate Finance Committee and the highest-ranking Republican in the Texas Senate.