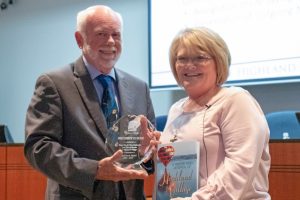 Mayor Pro Tem Fred Busche participated in his last City Council meeting on Tuesday night, and the city recognized him for his service.
Busche served on City Council from 2001-07 and then again from 2012-19. During his recent tenure on Council, he also served on the Highland Village Community Development Corporation and the Animal Shelter Advisory Committee, according to a news release from the city. Prior to serving on Council, Busche served on the Highland Village Planning and Zoning Commission and was the County appointed board member to the Denton County Transportation Authority. Busche also serves on the Highland Village Rotary Club and has been involved for many years with the Greyhound Adoption League of Texas, which assists in finding forever homes for retired greyhounds.
Busche was instrumental in supporting the city's GIS system — which benefits planning and infrastructure projects — and he advocated for trails, parks and dogs, according to the city.
"With Fred's background in earth sciences, including a Master of Science in Volcanology and a Doctor of Philosophy in geochemistry, he brought a unique perspective to Council," said Mayor Charlotte Wilcox. "Fred has worked hard for the betterment of our community and his insight and dedication will be greatly missed!"