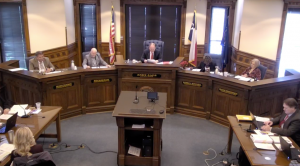 Denton County recently purchased the Sally Beauty Holdings distribution building at 3900 Morse St. in Denton for $12 million, plus applicable closing costs, according to a news release from the county.
County officials plan to use the building to house county government departments, whose staff is growing along with the county's population and demand for services. Denton County population is still growing quickly — among the 10 fastest in the country.
The 114,062-square-foot distribution center is near existing county facilities such as the Elections Administration Building, Denton County Public Health and the county's facilities department, as well as the new Denton County Courthouse currently under construction. That proximity means the county will save millions of taxpayers' dollars, delaying the need for new construction, according to the news release.
"When we heard that this facility was available, we believed it prudent to consider buying it," said Denton County Judge Andy Eads. "A new building for records management alone would have cost in excess of $22 million, not including land costs. With this purchase, we have the space for records management at half the cost – thereby saving taxpayer dollars."
The building will house records management as well as serve as a temporary location for the county's emergency services department. It will also offer space for other county departments as needed.
In addition to the building and fixtures, the purchase includes more than 13 acres of land, which could be used in the future to accommodate even more growth.