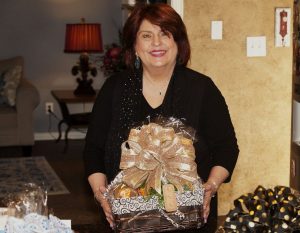 The idea for Lynn Moon's first business venture happened in the 1980s during a visit to husband Tony's aunt Virginia Dean, while he was on military leave in Greenville, South Carolina.
"She owned a basket shop called Baskettes and she taught me some things about gift baskets," Moon recently recalled. "I watched and learned from her a little bit. She said, 'one day you might own your own business.' I said, 'this looks like fun;' and, she said, 'it is.' Little did I know."
After raising two sons and working for other people– including WineStyles, where she put together gift baskets– Moon finally launched Baskets by Frankie Lynn in 2016. She arranges unique and personal custom gift baskets, sometimes aided by Tony who engraves wine glasses, cutting boards, slate, and jewelry.
Moon starts the process by asking clients their needs and budgets. She then personally shops for the appropriate items and puts them all together by hand in her Lewisville kitchen.
Baskets can include food items like cheese and crackers, chocolates, cocoa, teas or jelly. They also can feature candles, etched wine and beer glasses, cheese cutting-boards and new wine boxes, plus special occasion greeting cards.
"A good gift basket is $50," said Moon, a former Flower Mound resident whose business was named Best of Denton County for Special Occasion Delivery in 2017 and 2018.  "We both win on that."
She's also aided by three part-time employees– Vickie Rodriguez, who helps Moon shop and make bows by hand; Matt Moore, who delivers some baskets; and, Matt Ebner, who handles marketing and social media. Son Kenneth, a wounded Army veteran, creates personalized tags included with every basket of at least $50, from which she donates $2 to the Wounded Warrior project. Her other son, Jerred, owner of End of Three Fitness, offers business support.
Moon's success comes from personal relationships with people who just don't have the time to prepare such gifts themselves. They include many local businesses owners, realtors, customers at Salerno's, where she hosts one or two nights-a-week and people she teaches at periodic wine events.
Contact Baskets by Frankie Lynn at basketsbyfrankielynn.com or call 214-636-3392.